In 2000 Aqua Products released the Armo to celebrate their 10th anniversary. A revolutionary concept in bivvy design, it gives you everything you could possibly want from a bivvy.
Due to its captive rigid frame system, the Armo is exceptionally quick and easy to erect even in strong winds. It is extremely stable, lightweight and condensation free when used as a twin skin bivvy and of course it is manufactured in England by Aqua Products with exactly the same standard of high quality that has made Aqua Products legendary. The Armo has taken the big fish scene by storm.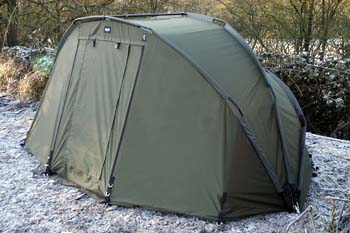 Features Include:
1. The Armo can be erected in less than two minutes, even in strong winds.
2. Captive rigid coated alloy frame allows the Armo to withstand extremely strong winds.
3. Manufactured from top quality British made "Aquatexx" material.
4. All seams are twin stitched and then heat tape sealed to ensure a strong watertight seam using our own heat seal system that doesn't come off.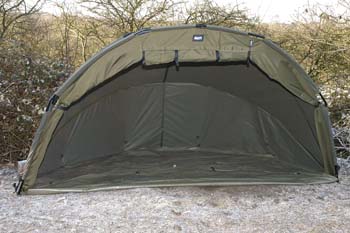 5. Heavy duty two-way zips allow the door to be opened from the top or bottom.
6. "Aquatexx" fabric winterwrap eliminates condensation and helps to keep you warm in winter and cool in summer.
7. The Armo can be used with or without the heavy duty groundsheet.
8. Fronts can be folded back once the frame support system is fitted to improve visibility.
9. Extended and Supa Winter wraps create a porch area over the door to provide storage space between the two skins.
The Armo comes complete with a heavy duty groundsheet, a mozi door with nylon blind and hardened pegs in a strong waterproof valise with carry handle.
weight: 9.5kg approx. Dimensions: 3.05m wide, 2.5m deep, 1.5m tall. All weights include Ground Sheet, door and pegs.
Optional Extras
Armo 2-Man Standard Winter Wrap £139.99 (below)



Armo 2-Man Extended Winter Wrap £199.99 (below)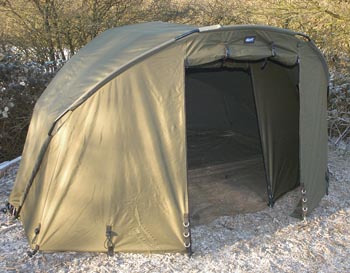 Armo 2-Man Ext Winter Wrap with Clear Panel £224.99
Armo 2-Man Clear Blind Door £19.99
Armo 2-Man Groundsheet £49.99
Armo 2-Man Frame Support System £29.99
Availability
Only available direct from Aqua Products
Pricing
RRP of £329.99
Deals at time of publishing
For latest deals visit: http://www.aquaproducts.co.uk
New and used Aqua Bivvies & Shelters on Ebay – Direct link: CLICK HERE