I dread to think how many different bivvies are available at the present moment in time; well into the hundreds, I would have thought, so finding one that's exactly suited to your needs can be a bit of a tall order – where do you even start? Well, that's where we come in; this handy buyer's guide is designed to outline some of the key differences between the different styles available in the hope of putting you in reach of the perfect bivvy.
Firstly, we need to explain the term 'session bivvy'. By this we mean a bivvy designed for prolonged session use on the bank, as opposed to a lightweight brolly or overnight/day shelter system (there's a separate guide for those). Here we are going to be taking a look at those designed for long stay angling, used for sessions of at least a few days at a time.
So, which to go for; rigid frame, pram hood, dome – there are just so many options. The key is in matching a bivvy to your intended use. Before deciding on a bivvy you need to have a good think about the style of fishing you do and the kind of waters that you fish.
First up, let's look at the style of fishing. You tend to find there are three main types of angler; the lightweight angler who likes to travel light, and thus has minimal amounts of tackle and equipment to house, the all inclusive angler who takes pretty much every bit of kit they own (including the kitchen sink), and finally the average angler who falls somewhere in between the two.
Obviously, each angler will have a different requirement for a session bivvy in terms of space. For example, the angler preferring a more lightweight approach will usually be happy to sacrifice 'fancy' features in favour of reduced weight and improved functionality. As such, you need to think about what makes you happy. It's no good going for a more stripped out design and then pining for the bivvy across the lake that's got a double porch, twin skin and plunge pool. By its very nature, a session bivvy is somewhere you are going to be spending a lot of time – so make so you go for a home from home that you are going to be happy spending large amounts of time in!
Session bivvies aimed at the lightweight angler may only be single skinned and might not have big canopies, visors, wraps or skins, so whilst great from a weight saving point of view, they might leave you feeling a little despondent if you like your home comforts whilst out on the bank.
The other issue is that if you are fishing for several days at a time, you need a shelter that can cover all eventualities weather wise. It may be a lovely summers day when you leave the house, but three days into a session it could have turned into a complete howler and be blowing a gale and lashing it down, so you need to ensure the bivvy has the capability and features required to keep you and all your kit warm and dry in bad weather, and cool and relaxed in hot weather.
External porches are a great way of gaining increased storage space. Some lightweight systems don't have them at all, whereas some of the visor or hood type bivvies (with the use of a simple wrap) can effectively increase the footprint of the bivvy and offer up extra weatherproofed storage space outside the main shell for all sorts of extras like waders, bait buckets, tackle and chairs – just general odds and sods essential for the long stay angler, but which you might not want within the living shell of the bivvy. If your system cannot offer a porch, you're either going to have a bucketful of smelly hemp right next to your bedchair, or your gear is going to have to stay outside and get wet!
Likewise, you need to think about potential problems at the other end of the scale, too. If the minimum footprint of your bivvy is quite cumbersome, you might not be able to get it up on many of the tighter swims on the lake you intend to be fishing, and that to me is madness – it should always be a case of picking the swim based on where the fish are likely to be, not based on where you can get your bivvy up! I know one lad who bought a massive bivvy with all the whistles and bells only to discover he could only get it up on about four of the twelve swims on our syndicate lake, thus he was only able to fish a tiny proportion of the lake – and on one occasion when he arrived to find the four larger swims already taken, he had to turn straight round and head home again!
Therefore, it always pays to study the external dimensions of the bivvy you are thinking about buying, and then having a recce on some of the waters you fish just to make sure it's not too big. With increased size also comes increased weight. Not so much a problem if you barrow all your gear to the swim, but if you like to walk it round the lake, you could be nearing a coronary by the time you get there!
Lastly, think about volume. A huge bivvy with a cavernous interior takes a lot of warming up in the winter months, whereas a smaller bivvy can often be made snug and cosy with minimal effort, so again, try and work out a size that accommodates all the tackle you are likely to have, but not much more.
With that said it's time to have a look at what's on offer, don't forget these are just a few choice selections; there are tons more available to view on www.bivvies.co.uk

Chub Vizor Bivvy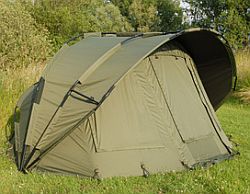 The Vizor, Chub's latest advanced bivvy system, has taken bivvy development to a new level with its radical and innovative design concepts that offer even more comfort, protection and adaptability to the serious specimen angler. The Climatex® (10,000 mm Hydrostatic head) high performance breathable canopy is now complemented by the unique Back draftTM Ventilation System. This system allows you to quickly and easily adjust the level of airflow through the bivvy to keep you comfortable, whatever the weather throws at you.
The cranked front pole enlarges the storm peak for wider protection and the full set of clear windows provides improved visibility, even during the wettest conditions. It is built around a sturdy 16mm 5 section frame engineered from 6061 Aluminium, with quick release joints and collars to guarantee a rock solid set up. As with all Chub bivvies, the Chub Vizor bivvy is extremely versatile and is supplied complete with interchangeable front panels and a door system that provides many options for whichever set-up you prefer. Inline tension bars, heavy duty ground sheet, Tension strap and T-pegs also supplied as standard.
Features

Manufactured from Climatex® high performance fabric 10,000 mm Hydrostatic Head

Enlarged Storm Peak for wider protection

Unique Back DraftTM Ventilation System

Full front set of clear window panels included

Full zip-on/off mosi panel in 'rip stop' mesh

Supplied with In-line Bivvy Tension Bars with double locking screws

Completely removable door system

Heavy duty groundsheet with elasticated pegging system

Full set of heavy duty T-pegs included

One and Two man option.

Verdict – It's fair to say the bivvy market is as crowded now as it's ever been, so it can be hard for some bivvy systems to keep up with the pace of development, but not so with the Chub Vizor. It features some really useful innovations that could truly help your angling, rather than those on many other mid-price systems which one might say have features for features' sake! Excellent design, proven durability and affordable price.
Available From: Sportfish
Price at time of publishing: £329.99 (1 Man) £389.99 (2 Man)
CLICK HERE FOR MORE INFORMATION
Nash S3 Bivvy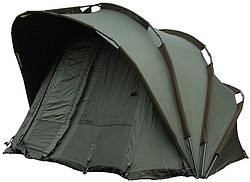 The Nash S3 Bivvy is at the forefront of modern carp fishing design, aimed specifically at the specimen angler who demands the most from their equipment. Tailored for the hardcore carp angler, the lightweight S3 has three modular options and boasts a radical, aero-dynamically rounded profile for maximum stability, more headroom and increased porch protection.
The outer skin utilises Nash's groundbreaking intelligent-membrane technology – Aqua-Sense. Retaining a tension skin, Aqua-Sense intelligently relaxes or tightens depending on conditions and temperature. In tests, condensation drip was completely eliminated.
Features

Super-stable wind tunnel evaluated design guaranteed to withstand hurricane force winds.

Full protection with waterproof infill and extended porch

Heavy-duty mosquito mesh

Outer skin – Aqua-Sense™. Rear vents with zip-able panels to enhance airflow in summer

Highest quality pegging rings and fittings

Supplied with Clip-in heavy-duty groundsheet & Nash heavy-duty T pegs & Carry bag

Available in two formats; S3 MAX 1 – Depth 220cm x Width 290cm, or S3 PROFESSIONAL – Depth 210cm x Width 270cm.
Verdict – We love some of the materials used to make today's top end bivvies, and Nash's Aqua-Sense is no exception. Super tough and durable, it's built to last, and thus so is your bivvy!
Available from: Fishtec
Price at time of publishing: S3 MAX 1 £350.00, S3 PROFESSIONAL £379.99
CLICK HERE FOR MORE INFORMATION
TF Gear Force 8 Bivvy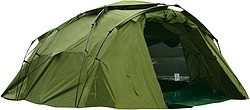 The TFG Force 8 Bivvy is fast and easy to erect, thanks to the revolutionary central hub system that quickly pulls its strong flexi ribs into place. It is then just a simple matter of sliding the Flash-Touch power lock into position, and this incredible all season shelter is ready to go. The Force 8 is a great all rounder suited to both beginners and regular anglers alike, and offers features and spec found on many bivvies with a much higher price tag.
The bivvy is twin skinned to maximise comfort and create a warm, thermally insulated, condensation free environment, guaranteeing full protection against the worst weather. Designed with an integrated porch area that gives extra storage space for wet clothing, bait and any other tackle you do not wish to have within your main living space, the Force 8 Bivvy also provides vital extra frontal coverage during extreme weather conditions.
Features

3,000mm hydrostatic head – the TFG Force 8 Bivvy is 100% waterproof guaranteed

Heavy duty 6oz denier fabric

Extra tough ribs to withstand the strongest winds

Porch for extra storage and protection

The TFG Force 8 Bivvy can be erected in under 20 seconds

Built-in groundsheet for extra warmth and comfort

Verdict – It's sometimes easy to get carried away with carp fishing tackle, and before you know it you've shelled out £600.00 on a bivvy! The TFG Force 8 reminds us, quite starkly, that a decent bivvy, fully capable of looking after you and your gear on the bank, does not have to cost you an arm, and indeed, a leg!

Available from: Fishtec
Price at time of publishing: 1 Man £124.99, 2 Man £174.99
CLICK HERE FOR MORE INFORMATION

Trakker Armo MKII

The original and still the best, the Trakker Armo MKII bivvy stands head and shoulders above the rest. Many pram hood style bivvies have tried to imitate this fantastic design, but few have come close. The 2010 MKII version has even more refinements and also boasts the addition of a rear vent to allow air to circulate through the bivvy.
Produced using the bombproof Aquatexx fabric, which promotes strength and stability in all weather conditions without shrinkage or stretch, the Armo MKII is still the bivvy against which all other pram hoods are judged.
Features

Aquatexx fabric

Rear air vents

Front windows

Heavy-duty groundsheet

'T' pegs

Zipped carry bag

Supplied with interlocking frame support system

Supplied with clear window

Weight: 7.5kg (1 man) (weight shown less groundsheet and pegs totalling 3kg)

Dimensions: 2.8 m x 2.3 m

Transport Size: 100 x 22 x 22cm

1 Man Bivvy Dimensions

– Floor Plan : 280cms wide x 230cms front to back –

Height : 130cms

Verdict – The Armo bivvy has been around for some time now in various guises. It's fair to say it's been one of the most popular bivvies out on the banks for specimen session anglers for many years, and the latest improvements to the MKII mean it's still going to be a firm favourite for many years to come.
Available From: Sportfish (Click Here) and Fishtec (Click Here)
Price at time of publishing: From £359.99

Greys Torsion Bivvy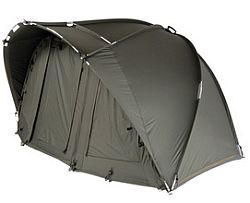 For many years, there has been a payoff with top-end bivvies; you could get super strong and rigid bivvies which lacked versatility, or more lightweight systems which had all the versatility but not the same presence in a hard storm. However, it would seem the Greys Torsion Spyda Wynda System offers the ultimate in flexibility, stability and protection!
The patented Spyda Wynda mechanism is at the heart of a new bivvy concept that aims to offer the dedicated carp angler something that can only be described as the ultimate bivvy. The bivvy features an extended draft skirt that is particularly useful on uneven ground or when you need to go ultra lightweight and use the bivvy without the groundsheet.
The Torsion Spyda Wynda system is simplicity itself to erect and the operation can be completed in under a minute. Once erect, the bivvy is completely free standing and self supporting. All that is needed for extra rigidity is the addition of the door tension bar (included). Due to its design, the Greys Torsion bivvy can also be adjusted for height and width to suit changing weather conditions.
Features

Revolutionary patented Spyda Wynda quick erection system

Manufactured from Climatex® high performance breathable fabric

Storm Peak for extra protection

Adaptable height and width to suit changing weather conditions

3 Different front panels included

Lightweight aero grade aluminium poles

Heavy duty groundsheet and T-Pegs

Extra wide draft skirt for uneven ground

Completely free standing design

Verdict – The external frame is nothing new, and has been around for a while on shelters aimed more at quick overnight anglers, but where the Greys Torsion Bivvy really comes into its own is by offering the same design but with the extra strength of a front bar and tension bar. Its extra rigidity will make it make it a big hit with the long stay session angler wanting versatility and rock solid durability at the same time.

Available From: Sportfish
Price at time of publishing: £599.00
CLICK HERE FOR MORE INFORMATION

Julian Grattidge
February 2011