There are hundreds of bed chairs to choose from, so how do you pick one that's right for you? And at the best price? Check out this handy Anglers' Net guide to bedchairs, designed to give you all the help and information you need – guaranteed to give you a good nights sleep!
If you're looking to do some night fishing, one thing you're going to need is a good bedchair, but how do you know which one will suit you best? Well, it comes down to intended use really, not to mention what kind of spread you might be carrying around your waist!
All bed chairs follow the same basic principle, in that they have a fold up foot end, a hinged head end which can be locked at various angles, and legs underneath which also fold up and can be height adjusted to get the bedchair level on uneven ground. From that point on there are innumerate variations on the theme, firstly there's the amount of legs; 2, 3, or 4 legged frames (giving 4, 6 or 8 actual feet) and then there's a million different ways to pad them out.
The most basic of beds will have a good robust canvas style material attached to the frame by elasticated cords. There won't be too much additional padding so the actual frame of the bedchair might be left bare. The more you spend, the more cushioned padding you get, which will then begin to cover the frame in full and offer various support cushions throughout its length. Top end models will also have good padding around the head and some even come with integral sleeping bag systems.
The type you go for will ultimately be governed by the amount of weight you want to carry to the swim and the amount of your own weight you need the bed to support! If you're of a slim build, a 2 leg bedchair will be fine. If you regularly have friends sitting on your bedchair too whilst fishing, a 3 leg bedchair will offer a bit more support and strength, but will obviously be that bit heavier to transport.
If you are of a larger build, then you would be better suited to a 3 or 4 legged bedchair, which will usually be constructed from slightly heavier duty materials and, in most cases, will be bench tested and offer a weight that it is designed to take.
Once you've chosen your ideal sleeping companion, there are a few useful extras worth looking at too. First up is a bedchair bag. Basically a very large bag designed to take your folded up bed, sleeping bag and pillow all in one. These bags are great for keeping mud, dust and rain off your bed whilst getting to and from the bank, and with large padded adjustable shoulder straps, they allow you to spread the weight nicely when carrying. The thicker the material the better, and ones with a padded base are often best as the end bars of a folded bedchair have a tendency to wear away at the base of the bag.
Finally, a nice little addition to your new purchase would be a bedchair organiser; a handy little tackle storage system which hangs down from the side of your bedchair, allowing easy storage and access to your mobile phone, car keys, remote sounder box, polarised glasses and so on. They attach easily using Velcro straps and can be folded up as one when you pack away. A really handy little innovation which in many cases can allow you to do away with a bivvy table.
So, with all the basics covered, let's have a look at some booty. For the occasional angler, or for those on a tight budget (and lets face it, there's plenty of us in that camp at the moment!) a great option is the Hardwear Bed. With this value for money bedchair you can get a comfortable night's sleep without breaking the bank – sounds good to us! Despite being one of the most affordable bed chairs on the market you still get a 6 leg design, soft mattress, mud feet and fully adjustable legs. Priced at just £49.99; full details HERE.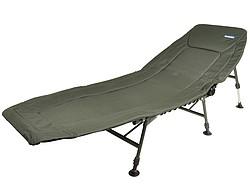 Still at a bargain price is the TF Gear Comfort Zone Bed. This ultra lightweight fishing bed chair features maximum comfort pillow technology, breathable soft spot to regulate body temperature, and has extra layers of sumptuous fillings for maximum comfort. The Comfort Zone Bed Chair is purpose built for total slumber comfort with adjustable legs engineered for total stability, and a tough, strong frame designed to cope with heavy regular use. A fantastic bedchair with features comparable to others twice the price tag! Priced at just £99.99 (3 leg) and £109.99 (4 leg); full details HERE.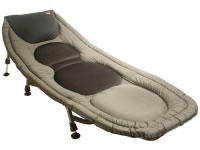 Moving up again, one we really like is the Carp-Porter Prestige Sleepezi Bedchair. When developing this remarkable fishing bedchair, Prestige aimed for the 3 essential elements; comfort, quality and value. Eight independent adjustable legs on a lightweight folding frame give the Prestige Sleepezi unrivalled stability on the most uneven ground, while the removable padded mattress gives support, warmth, and a great night's sleep. The bed also features automatic locking, large rubber mud feet, lightweight, strong aluminium frame, a thick removable mattress and, as if that's not enough, comes with a FREE removable washable cotton cover worth £19.95, *and* a FREE Fleece pillow worth £14.95. All of this for just £159.95; full details HERE.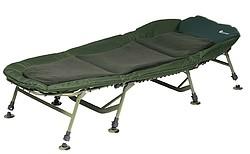 The range of Nash Indulgence bedchairs need little introduction, offering the specimen angler ultimate comfort, strength and rigidity. The Nash Indulgence Air-Lite Bedchair is the perfect example of this and the key to the popularity of this exceptional bedchair is Nash's X-strength technology all-oval frame. Weight has further been reduced by utilising a mesh mattress, which allows airflow in the summer to enhance comfort on hot steamy nights. For times when you do need insulation, just fit the double depth padded fleece mattress. Toast! The bed features; Oval sectioned X-Strength frame, unique mesh mattress for total air flow, soft-touch detachable centre mattress, luxury waterproof peach skin skirt, detachable peach skin pillow, extra strength legs, pivoting mud-feet, and an underside zipped wallet/valuables pocket. Available in standard at £219.99 or Wideboy at £239.99; full details HERE.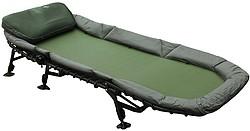 For the angler requiring an all in one sleeping solution, then check out the fantastic Nash Indulgence Air-Lite Sleeping System – the king of bedchairs! Up until now, anglers have used sleeping bags, a good example costing well over £100 alone. With the Indulgence mattresses, you do not need an insulated layer on the underside – this just adds bulk and expense. The Sleeping System consists of two upper, insulated layers that zip directly to the skirt of the Air-Lite bedchair. A twin layer system proven from the Nash innovative and patented Frostbite sleeping bags, allows the angler to use one or two layers for heat control. The insulated twin layer is topped with a luxury waterproof peach skin. Available in standard size at £299.99, or Wideboy at £319.99; full details HERE.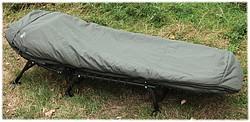 We hope this bedchair guide has proven useful, and don't forget to check out all the other bed chairs available via the Anglers' Net Fishing Tackle & Bait Finder.
Sweet dreams…
Julian Grattidge
November 2010
All prices and offers correct at time of publishing.