Looking to purchase a cooking stove for use whilst out fishing? Well, there's no shortage of stoves and burners to choose from, so where do you start! This handy Anglers' Net guide to stoves and cooking equipment offers a selection of hints and tips and a few stove recommendations to help you cook up a feast!
One of the best parts about session angling is being able to cook your own food on the bank – when you want, and how you want. I often see the cooking side of the operation as a bit of a treat, and will take a few special items with me that I don't get to eat at home either because the rest of the family don't like them or because they're not overly healthy, but hey, all in moderation, eh?
Of course, simplicity is the key; the more meals you can make with the minimal amount of preparation, utensils and mess, the better, but as I say, sometimes it's nice to push the boat out a bit. Before I get onto the stoves themselves, it's worth mentioning some of the handy luggage items available for getting your chosen fare to the bank. There are a whole host of food bags available now from all the big brands, and it's best to go with those that have a thermal wipe clean lining which will help to keep everything cool and fresh, and if you are there for a day or two, a few ice packs won't do any harm to keep meats and chilled goods in tip top condition. Just remember, though, the more you dip in and out of the bag, the more you'll lose the chilled air which can't be replaced, so once on the bank I'll often take out the snack stuff I'll be chomping on regularly and leave the chilled items to stay cool in a sealed Tupperware type box inside the bag.
You'll spot various types of chefs on the bank; those who like to make a meal of it, pun intended, and those who like to get by with the least amount of effort possible. What you need in terms of cooking equipment will depend on which camp you fall into, but one thing you will need whether it's just for brews or full-on bankside banquets is a decent stove.
There are lots to choose from, so where do you start? First thing to look at is the fuel type. Some run on gas canisters and some run on unleaded fuel. I actually have one of each. In summer I use a small gas canister type burner which is lightweight, easy to use and there's no mess as you just buy another screw on canister when you need one. In winter, though, you may want something that's going to kick out a bit more heat and be more economical to run for longer periods, at which point the trusty Coleman burner will come out. This runs on unleaded fuel and gives off a serious amount of heat. The downside, however, is that it's quite heavy in comparison to the gas burner and if you're on a long session you will also need to take spare fuel and deal with the sometimes messy job of filling it up on the bank.
Other stove considerations are mainly to do with the overall stability and size of the unit. You can get some fantastically small stoves nowadays which pack up seemingly smaller than a matchbox. Whilst these are great for use on perfectly level ground cooking the smallest of utensils, like a compact kettle, they might not be too good if you like to do a full on fry up in a big pan; firstly because the pan and contents will be top heavy wanting to tip all over the floor, but also because the tiny burner might struggle to dissipate the heat evenly throughout the pan – especially if there's the slightest hint of wind.
You can go the other way of course. If you're thinking more along Michelin star lines, there's a whole host of big and bulky units that will be able to cook for six in a gale! You can get flatbed burners, which are like a mini hob, with a single burning plate and integral gas canister. These are very stable but weigh a bit and can get through the gas on a big cook up. There are also duel burners for those who will want to be doing combination foods, i.e. cooking rice on one burner whilst doing the curry on the other. You can even go the whole hog (roast) and get a double burner which has a grill underneath – bankside grub has never been so appealing! Just remember the weight though – whatever you end up going for you've still got to lug it (and any required fuel) to the swim, which can be a hard enough game at the best of times.
In addition, there are a few useful little extras for cooking up the perfect feast. First up is a windshield, a handy foldable aluminium plate which you stick into the ground around your stove to shelter it from the elements when cooking. By reducing the amount of wind rattling around the burner your cooking times will improve drastically, and there's nothing worse than waiting ten minutes for the kettle to boil on a chilly winter's day… Brrrrrrr!
Also worth looking at are some of the fantastic cook sets available. If you take pots, pans and various utensils straight out of the kitchen, not only are you risking the wrath of her indoors (which can be a difficult balance at the best of times when it comes to fishing), but you'll also find them quite bulky, cumbersome and often awkward to use in confined spaces. Much better to get one of the new generation cooksets which offer pots, pans and all sorts of dishes and bowels all packed into one neat little unit – easy to carry, easy to cook on, and easy to eat from. Result!
So, now we've covered all the basics, let's get cooking! Below you'll find a selection of recommended stoves and burners;
The Fireball PZ Stove, from Trekmates, is a remarkably compact unit and perfect for the roving angler, where space is at a premium. The space-saving Fireball boasts a built in ignition that means no matches are required. Easy grip controls and adjustable gas flow make for easy use. Folding arms allow for minimal space required and the stove comes in a robust plastic box with lid. The stove screws onto the standard valve gas canisters available from most good camping suppliers and is perfect for the angler who does not want to get bogged down with gear. Well priced at £17.27, Full Details HERE.
Still on the lightweight theme, but jumping up the scale a bit, is the Primus Gravity EF PZ Stove. Again it's perfect for the roving angler, or for the session angler who like a more robust platform than that offered by a canister-top burner. The Primus Gravity EF is small and impressively stable, operating on liquid propane and fitted with a preheating coil, the Gravity EF can be used at low temperatures. The spider-leg design means the cooker has a lower centre of gravity and is, therefore, incredibly safe and efficient. The Gravity EF has a built-in piezo lighter, which means no messing with lighters or matches. The design includes a windscreen & heat reflector and includes a stuff sac for stowing after use. A powerful, stable and compact stove suitable for 4 people that's ideal for the angler counting every gram! Priced at £59.99; full details HERE.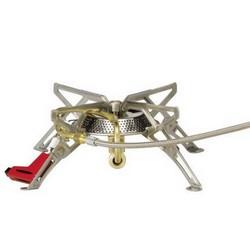 If you need a bit more bang for your buck, then the Coleman Unleaded Sportster II Stove is right up there; robust, durable, and capable of kicking out a serious amount of heat, even in sub zero temperatures! The Coleman has been a trusted stove of countless specimen anglers for years, and my own Coleman must be well over ten years old now and is still going strong! Coleman have been making quality stoves and lanterns since 1901, so the pedigree is established and reflected in the quality of their fine equipment. The Coleman unleaded stove is certainly no exception. It operates on either Coleman Refined Fuel or unleaded petrol. The unit is made of heavy duty steel components. The tank is coated with a special epoxy resin to help keep the tank clean and rust free. Included in the package is a filter funnel that stops filling at correct level. The unit has a fully adjustable output from simmer to a full boil. The high performance burner provides 10,500 BTU of adjustable cooking power and generates more heat than a standard range burner. The WindBlock/Pot support system also helps provide wind so the maximum heat is achieved. The unleaded stove is a quality unit that the serious adventurer will truly appreciate. With a limited lifetime warranty, you are buying a quality stove that will last years. A serious bit of kit, but consider it's a heavier unit than most, and for longer sessions you will need to take additional fuel plus the funnel, etc. Great for winter use. Priced at £59.99; full details HERE.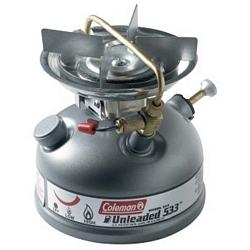 For those looking to cook up a feast fit for a king, there are several double burner stoves available with integral grills. At the cheaper end of the scale a good choice would be the Gelert Double Burner & Grill Piezo. The Double Burner & Grill includes a lid doubling as a wind shield and the unit has electronic piezo ignition. Two adjustable burners offer versatility while the height grill pan is perfect for the late night cheese on toast! Obviously, you'll be carrying more weight at around 5.3kg, but once set up you can knock up tasty dishes at a moments notice. Great for the session angler who likes their food! Reasonably priced at £55.27; full details HERE.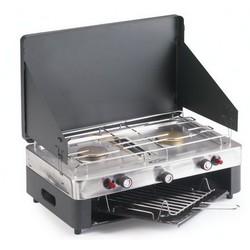 Well, I hope this little guide to stoves has proved useful, It's certainly given me an appetite, so I'm off to do some oatcakes and cheese…. it's a Staffordshire thing! Don't forget to check out all the other stoves, burners and cooking accessories available via the Anglers' Net Fishing Tackle & Bait Finder.
Julian Grattidge
December 2010
All prices and offers correct at time of publishing.