This generous sized carryall is designed to house both Armo bivvy and winter wrap.
Measuring 45 inches in length and 11 inches in diameter it would also house many other bivvies and with its full length top zip, padded adjustable shoulder strap and carry handles, makes transportation of your bivvy to and from the lake a synch.
The carryall also features a zip accessed rear pocket and of course, the distinctive Aqua logo.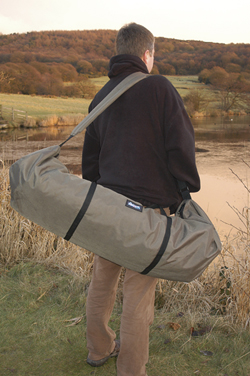 Availability
Only available direct from Aqua Products
Pricing
RRP of £25.99
Deals at time of publishing
For latest deals visit: http://www.aquaproducts.co.uk
New and used Aqua Bivvies & Shelters on Ebay – Direct link: CLICK HERE