Based on the legendary MK1, this bivvy utilises enhanced material technology (Aquatexx) ultra high performance, low stretch covering.
A new built in porch protects the vulnerable door area from water intrusion during extreme weather conditions, extra frontal pegging points ensure greater stability at the entry point. Redesigned outer tubes give better shape and ease of unit assembly, the reworked groundsheet minimises draft and rain incursion at ground level, slightly increased door height provides better access and visibility. Available in 1 and 2 man with optional winter skins to reduce condensation.

Features Include:
1. The Armo can be erected in less than two minutes, even in strong winds.
2. Captive rigid coated alloy frame allows the Armo to withstand extremely strong winds.
3. Manufactured from top quality British made "Aquatexx" material.
4. All seams are twin stitched and then heat tape sealed to ensure a strong watertight seam using our own heat seal system that doesn't come off.
5. Heavy duty two-way zips allow the door to be opened from the top or bottom.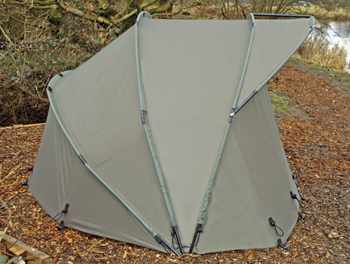 6. "Aquatexx" fabric winterwrap eliminates condensation and helps to keep you warm in winter and cool in summer.
7. The Armo can be used with or without the heavy duty groundsheet.
8. Fronts can be folded back once the frame support system is fitted to improve visibility.
9. Extended and Supa Winter wraps create a porch area over the door to provide storage space between the two skins.
The Armo comes complete with a heavy duty groundsheet, a mozi door with nylon blind and hardened pegs in a strong waterproof valise with carry handle.
Weight: 9.5kg approx. Dimensions: 3.05m wide, 2.5m deep, 1.5m tall. All weights include Ground Sheet, door and pegs.
Optional Extras
Extended Winter Wrap £199.99 (below)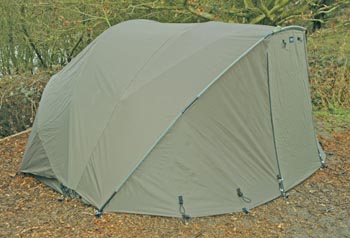 Availability
Only available direct from Aqua Products
Pricing
RRP of £399.99
Deals at time of publishing
End of Line offer, £100 off. Whilst stocks last at: http://www.aquaproducts.co.uk
New and used Aqua Bivvies & Shelters on Ebay – Direct link: CLICK HERE