Simply the best there is. Perfect for the mobile angler. The Aqua Brolly System is available in two sizes. The first is based on a 50″ frame which is large enough to accommodate most bedchairs laid out flat without touching the sides, yet small enough to fit in virtually any swim. The second is based on a 60″ frame, giving you tons of room.
Both are fitted with permanent mini storm sides and velcro around the front edge to take detachable storm panels which incorporate zips to take a door. The ground sheet has identical pegging points so you can just peg everything out to the same shape as the ground sheet. then fit your storm rods and it will go up perfectly every time.
The brolly also features dual height pegging points on both the mini storm sides and the front storm panels, this allows you to lower the brolly in bad weather conditions, or just cope with uneven ground.
Features Include:
1. All four rear spars touch the floor for improved stability and to eliminate twist.
2. The cover is made from heavy-duty Aquatex fabric. This material will withstand years of hard use and still be waterproof provided it is thoroughly dried out after use.
3. A 15 cm draft skirt is fitted at the base of the panels to help eliminate drafts. All seams are tape sealed to ensure a water tight seal. 4. Stainless spar ends secure the cover to the frame, these are riveted to the cover so they won't fall off after 6 months use.
5. Two way zips are fitted to the doors. The detachable storm panels are fitted with a removable fibreglass rod across the top edge, increasing strength and stability.
6. The centre boss is manufactured from aluminium and fitted with a rubber seal.
7. Fitted with 4 swivelling storm caps ready for storm rods as standard.
8. Supplied with hardened pegs. ropes and a 4oz material bag.
Specification:
50″ Aqua Brolly: 226cm wide, 183cm deep, 137cm high. Weight: 4.1 kg.
60″ Aqua Brolly : 259cm wide, 211cm deep. 150cm high. Weight: 5 kg.
Optional Extras
Infills per pair £59.99 (below)
Groundsheet £39.99
Doors Nylon or Clear £39.99 (below)
Combi Doors Mozi/Clear or Nylon £44.99
Long Storm Rods/Short Storm Rods Pair £24.99 (below)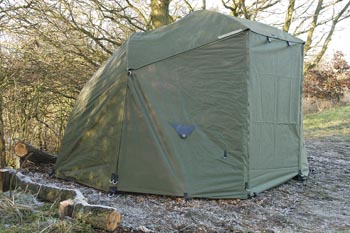 Availability
Only available direct from Aqua Products
Pricing
RRP of £154.99 (50″) and £179.99 (60″)
Deals at time of publishing
For current deals visit: http://www.aquaproducts.co.uk
New and used Aqua Bivvies & Shelters on Ebay – Direct link: CLICK HERE