The Pioneer Bivvy features ground breaking design, incredible versatility, ease and speed of erection. It uses revolutionary new materials that will out perform anything that has gone before it.

The frame is made of top quality anodised aluminium and is super stable. The new fabric "Aquatexx" is the result of years of development and testing, its waterproof to the extreme having a hydrostatic head of over 10 metres, this means it can withstand a column of water over 10 metres tall. Its tear strength is 3 times stronger than nylon and it is extremely stable maintaining good cover tension in all conditions, unlike nylon that expands and contracts with moisture and temperature.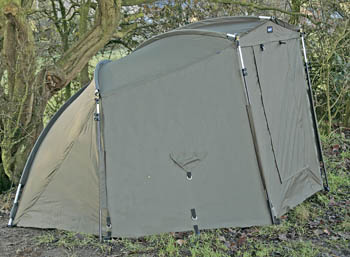 Features Include:
1. Versatile. Ideal for long or short sessions as a bivvy or a brolly.
2. Height adjustable to suit almost every anglers needs.
3. All metal junction block for maximum strength and toughness.
4. The Pioneer can be permanently twin-skinned to reduce condensation.
5. Lightweight but exceptionally stable.
6. An external frame maximises internal space.
7. Amazingly quick to erect giving you more fishing time.
8. Fronts can be folded back to improve visibility.
9. Heavy duty two-way zips allow the door to be opened from the top or bottom or removed
10. 9th rib eliminates water pooling on the top panel, whatever the height setting.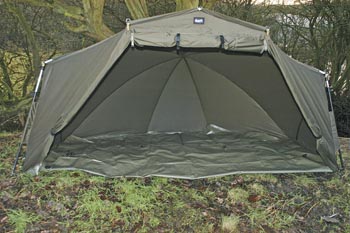 The Pioneer comes complete with a heavy duty groundsheet, mozi door with blind and hardened pegs in a strong waterproof carry bag.
Approximate Weights
Brolly on its own: 6kg. Groundsheet: 1.8kg
Dimensions (Size when packed) Approximate length: 115com, Maximum diameter (average): 25cm
Total weight (Storm rods, Door, Pegs, Groundsheet & Bag): 10kg
Optional Extras
Pioneer Standard Winter Wrap £99.99 (below)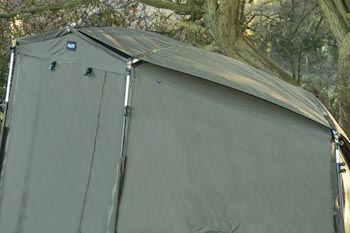 Pioneer Extended Winter Wrap £199.99 (below)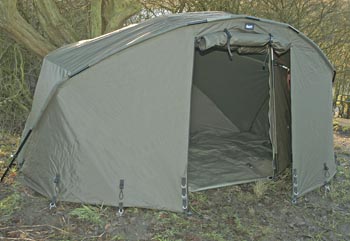 Pioneer Extended Winter Wrap with Clear Door £209.99
Pioneer Spare Groundsheet £49.99
Pioneer Storm Rods Short/Long – per set £49.99
Pioneer Bivvy as above with the addition of the NEW Aqua Quick-Fit storm rods x 4 £449.99
Availability
Only available direct from Aqua Products
Pricing
RRP of £399.99
Deals at time of publishing
For current deals visit: http://www.aquaproducts.co.uk
New and used Aqua Bivvies & Shelters on Ebay – Direct link: CLICK HERE