In the middle of another cold winter, the one thing you want more than anything is a decent night's sleep if you're out session fishing, and the fantastic new Aqua Sleep System is designed to do just that, comprising a sleeping bag, thermal bedchair cover and pillow to give you a quality all in one system.
Aqua have been producing sleeping bags of the highest quality for many years and their experience in this area, not to mention their attention to detail, is all lavished on this new all in one sleep system. I've used various combinations of bags and covers over the years, but have to say that this latest offering from Aqua puts them all to shame – and at just £129.99 it is competitively priced, too.
The sleeping bag itself has a smooth touch fabric inside and out, and the Q7 hollow fill offers supreme protection against the elements. The cut of the bag is very impressive too; its tapered design gives you ample room around the shoulders, whilst narrowing towards the foot end to so it won't hang over the edges. This bedchair hugging design is ideal for anglers like myself who like to travel light as it means it packs up to nothing and doesn't take up loads of room in my small shelter during a session. The bag has all kinds of smart features from Velcro tabs, toggle fixing straps and heavy duty crash zips, and the overall feeling when you have one in your hands is that it's an absolute steal for the price – to be honest you'd pay the £129 for the bag alone!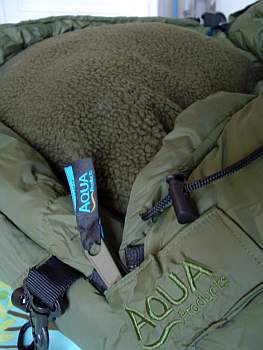 When the temperatures drop, you can simply throw over the fleece lined bedchair cover for extra protection from the elements. There's only one word to describe it when the two are combined – toast! One of my forum moderators put this system through its paces for a review just before Christmas, and having owned an Aqua bag for many years he was keen to find out if this new offering had moved on much. He could hardly contain himself when I dropped onto the water after his first night to see how he'd got on with it. It was a baptism of fire as he chose the coldest spell we've had this winter for his trip and did three days where it struggled to get much above zero even in the day! Suffice to say, he was impressed – and even stripped down on the second night in it as he was so warm! The only problem is that he now says I've got bob hope of getting it back off him!!
The fleece pillow is the icing on the cake and fits snugly into the hood section of the bag, held in place with toggle attachments. It's a small but very chunky pillow that finishes everything off and aids to a perfect nights sleep out on the bank. When all suited and booted this system does look the business and punches well above its weight in terms of features and quality when you consider its price.
We still can't believe its only £129.99 for all thee items combined – our advice is to get yourself one quick before Aqua realise they've made a mistake with the pricing!
Available to buy now.
Julian Grattidge
Northwestcarp.co.uk
January 2012