The Carp Kinetics (CK) Deluxe Hideout Bivvy is the bigger brother of the standard Hideout bivvy and, like its younger sibling, it offers unparalleled value in its class.
This pram-hood style bivvy comes with a groundsheet, bivvy pegs, removable windows, and the quick-erect poles needed to make this a stable, sturdy fishing shelter. This really is a bivvy that you'll feel at home in.
With the winter skin on (which is included in the price), this is a bivvy that is ready to meet the elements head-on.
With a large porch to keep the rain off, interchangeable windows and a front that can roll up if it ever stops raining, this is a versatile bit of kit that any long-session angler would be proud to own.
It's that good, you'd swear it was exactly the same as a more expensive brand, but with a different badge on…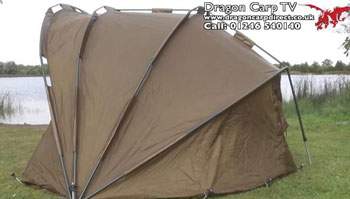 OUR VERDICT
Don't be put off by the price. This is a class bit of kit!
PRICE AT TIME OF WRITING – £150
WHERE TO BUY – CLICK HERE

Check out the Hideout Bivvy in the video clip below…