More and more, anglers are looking to get value for money from their fishing tackle purchases. By that, I don't just mean the overall quality of the goods, but also their versatility. The Chub Cyfish 1 Man Bivvy ticks both of those boxes, as not only is it well made, but the removable front means that it's equally useful in summer and winter. It's a real hit with carp and pike anglers.

Here's what Trev's Tackle have to say about this bivvy: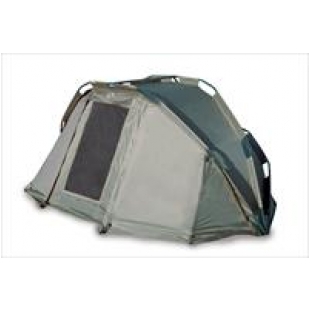 Based on the original and highly successful Cyfish, the New Cyfish has many new and advanced features which will make the bivvy more comfortable and versatile than before. The Cyfish now has a completely removable front panel which will allow the angler to use it just as an umbrella type system if required. The front panel features a two way door and interchangeable clear and Mosi windows. A full zip-in Mosi-panel and Overwrap are also included with the Cyfish . Other new features include a new mid-weight groundsheet with elasticated pegging system, inserts on all joints to prevent wear and allow a quick and easy setup. The whole bivvy can now be tensioned by three individual poles and shock corded pegging points for extra protection during extreme weather. Also included are waterproof side vents for extension leads and a handy clip in see-through bag to keep mobiles, keys and sounder boxes safe and dry. The Cyfish is also supplied with a full set of heavy duty T-Pegs.
The all new Cyfish , now probably the most complete bivvy system available today.
Cyfish comes with a full zip-in Mosi-panel and an additional Overwrap. This offers superb versatility and many different set-up configurations can be achieved to suit your individual preference.
At the time of writing, this Bivvy was just £159.99. Click here to check the current price.
Trev's Tackle offer a complete range of mail order fishing tackle and bait, with tackle offers changing every week, so check them out today. www.trevs-tackle.com