The stunning Fox Euro Warrior Bivvy sets a new benchmark in long stay bivvies. Not only could it house a kitchen sink, it could probably take a car as well, with a whopping nine square meters of space. At 1.8m high, the Euro Warrior Hood is also designed to be large enough for the average angler to stand up in, so no matter how you look at it, there's ample room to accommodate two bedchairs lengthways as well as plenty of luggage and cooking equipment for even the longest of sessions at home or abroad.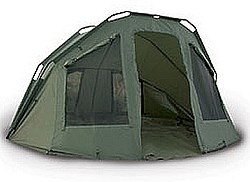 Constructed from high quality waterproof and breathable nylon it also features Fox's Airflow System, which allows air to flow through the bivvy when required through strategically placed vents at the front and rear; an ideal feature for warm climates and sultry nights. The detachable PVC door window is another great bonus as it allows you to keep an eye on the water whilst still having the door shut to keep you warm and dry.
Also included is Fox's FREE Dome Package comprising a clip-in heavy duty groundsheet, a Frame Support System to give perfect stability, peg bag, pegs and an over-sized heavy-duty carry bag. A winter skin is available separately.
VERDICT
What can we say about the Fox Euro Warrior Bivvy; it's immense, both in terms of its size and features. A real value for money purchase that's perfect for the long stay angler who likes to go prepared!

PRICE
At the time of writing, Fishtec are currently doing the Fox Euro Warrior Bivvy for just £269.99. CLICK HERE for more information.
OPTIONAL EXTRAS
You can buy a Euro Warrior Winter Skin for £89.99