If your fishing involves a bit more than the occasional 'overnighter', then you may well be looking for a good quality bivvy. The trouble is, quality does usually come at a price.
With a Recommended Retail Price (RRP) of £350, this dome + dome pack is what we'd probably class as mid-range. It's quite a substantial investment, but Trev's have knocked £60 off the price to help ease the pain!
Here's what they said about the Fox Ranger 1 Man Dome & Dome Pack in a recent email: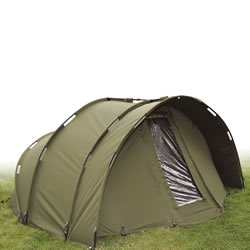 Anglers requiring extra space from their shelter will love the Ranger series, a three-shelter range that caters for all types of carp sessions from short sessions through to long trips abroad. The Rangers are made using a bent pole design to create a tunnel effect which produces an ultra rigid frame system. They also have a built-in porch, again creating extra space and this can be extended when used with the Wrap (available separately).
Supplied with a dome package which includes: Frame Support System, Removable PVC door, Heavy-duty bivvy pegs, Reinforced bivvy peg bag, Over-sized, heavy duty carry bag, Clip-in groundsheet.
RRP £350.00
Now Only
£289.99
To check the current price and availability, please click here.