Fox are at the leading edge of bivvy design and production. Their bivvies have been trusted by countless anglers for years. In fact, just about every piece of Fox tackle ever made has!
If you're looking for the ultimate bivvy system for all weather conditions – summer and winter – at a price that won't break the bank, look no further. The Warrior Hood and Winter Skin package includes everything you need for summer and winter overnight sessions, using top materials and features to offer a package that should cost twice the price. To start with it comes with the FREE Fox Dome Package: Clip-in Groundsheet, Frame Support System, Removable PVC Door Window, Bivvy Pegs, Peg Bag, Carry Bag and clip-in groundsheet. You also get the Winter Skin for use in colder weather conditions.
Key features:
• Waterproof and breathable high quality nylon material
• FREE Fox Dome Package
• Winter Skin included in package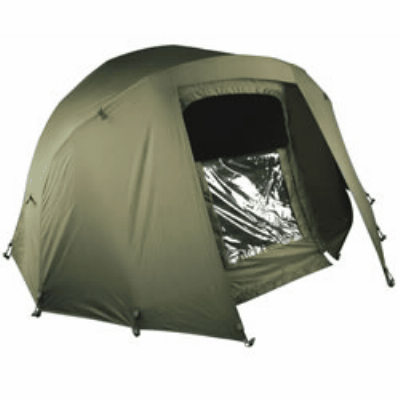 Detachable Door
The door can be completely removed or used as a half-door to retain optimum visibility, yet reducing cold airflow
Frame Support System
Each new Fox shelter comes complete with a FREE Fox inter-locking Frame Support System. These utilise Fox's Cam Lok system for ease of use.
Toggle and Hoop System
Roll up panels using the elasticated Toggle and Hoop System. It's user-friendly and keeps the rolled-up panels under constant tension.
Fixing D Rings
All 'D' Rings are a heavy duty, non-reflective aluminium finish.
Fixings
Heavy duty zips, coupled with Velcro tab fixed baffles for secure fixing.
Weight
11.6kg
Manufacturers Website:
http://www.foxint.com/
Availability:
Fox products are available from most good carp & pike tackle shops.
Price:
Available at the time of writing for just £199.99 from Lathams – CLICK HERE – FREE DELIVERY ON ALL ORDERS OVER £50