Whilst you can get away with cheap bivvy pegs a lot of the time (or tent pegs, as anyone else would call them!), the times when you need decent pegs are the time when you would miss them the most. I'm talking about dry conditions, when the ground is rock solid and cheap pegs bend, and stormy conditions, when you lie on your bedchair praying that everything holds together!
This is when you'll be relived that you bought the Fox Soft touch Bivvy Pegs.
This set of 8 steel bivvy
pegs provides a safe means of anchoring bivvies and domes in bad
conditions.
The rubber inserts allow for a secure grip and the steel
screw thread means they will cope with ground with ease.
Supplied in a
cloth wallet to ensue the points don 't damage other products in
transportation.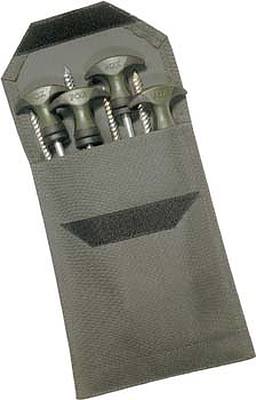 Click here to check out the latest offer price on this fantastic Fox product. Buy with confidence!