Fox Frontier Reader Review submitted by Gareth Halliburton
Bivvy Model: Fox Frontier (Original, not classic)
Recommended Retail Price when new: £299
Price paid: £265.00 from Dave's of Middlewich
How long owned: 3 long wet and cold seasons!
Bivvy type: Rigid frame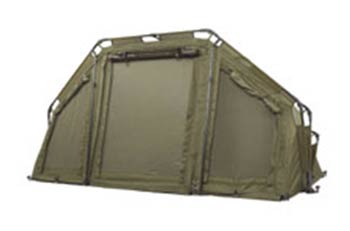 Comments:
My Fox Frontier has been in use now for 3 seasons. I fish all year round regardless of the weather and it's been used for everything from quick overnight sessions to week-long international trips.
I've never really had any problems with it and it has stood up to some of the fiercest winds I've fished in. It remains fully waterproof and in perfect working order despite 3 years of abuse.
Good Points
Tough
Big enough for everything (Bed, rucksack, cooking, bait, buckets)
Window panels for summer
Remove front for summer
Extremely quick to erect. (2 minutes maximum)
Shell goes up before the groundsheet
Mozzie nets on doors and Windows
Heavy duty ground sheet
Hard wearing carry bag
Bad Points
Fold down size is big
Heavy
Dips from the top of the door landing inside the bivvy
Pole clips hurt your fingers when it's really cold!
Condensation
Tell us about the features, can it convert from a rigid frame and be broken down to a lighter version for summer – and has this helped?
The frontier has a zip off front panel which has been great for warm summer overnighters. You can also roll up the windows and doors to get some air flow.
Did all the bits and pieces come as one or did you have to get extras?
Yes. The bivvy came with the side storm poles, HD ground sheet, a set of pegs and a carry bag.
Have you had any problems with it?
The one and only problem was this winter when it was really cold, the window panel has started to crack in places when rolling it up to put away. Only very small cracks but they will develop.
There is also some condensation. But isn't there with most single skin bivvies!?
All in all, what do you like about it and why did you choose it?
Excellent bivvy in terms of size, Quality and speed of erection. I doubt there is a quicker bivvy available. Its only draw back and the reason I'm not going to get another is its fold down size. It takes up too much space when trying to fit everything in the car for a France trip!
Score out of ten
Overall, very impressed – so 8/10 from me!
Gareth Halliburton