The new Fox Ranger Bivvy is designed to offer unbeatable performance in even the harshest of conditions, featuring a robust bent frame design that will keep you warm and snug on the inside, no matter what's going on outside!
Anglers requiring extra space from their shelter will love the Ranger series, a two-shelter range that caters for all types of carp sessions from short sessions through to long trips abroad. The Rangers are made using a bent pole design to create a tunnel effect which produces an ultra rigid frame system. They also have a built-in porch, again creating extra space and this can be extended when used with the Wrap (available separately).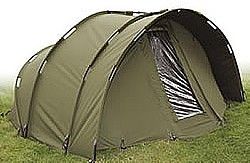 At the time of writing, the bivvy is supplied with a FREE dome package which includes: Frame Support System, Removable PVC door, Heavy-duty bivvy pegs, Reinforced bivvy peg bag, Over-sized, heavy duty carry bag, Clip-in groundsheet.

VERDICT
We love the new tunnel design on the Fox Ranger Bivvy; there's tons of space but as the rear frame is low down and hugging the rear end, there's a real snug and cosy feel when you're settled in. Great design suited to short or long stay angler who likes to fish in total comfort and security.
PRICE
At the time of writing, Fishtec are currently doing the 1 Man Fox Ranger Bivvy for just £299.99 and the Euro 2.5 Man at £379.99. CLICK HERE for more information.

OPTIONAL EXTRAS
1 Man Fox Ranger Bivvy Wrap – £164.99
2.5 Man Fox Ranger Bivvy Wrap – £199.99
CLICK HERE to view the Fox Ranger Bivvy deals.