The Cocoon Extreme Dome has all the features of the standard Cocoon but with the added feature of the extended porch. Not only does the porch increase the external size of the bivvy but it also increases the stability by adding further pegging points. Mosquito vents have been added to the porch sides giving superb ventilation even when the porch is pegged down with door closed.
Designed with a twin skin construction with fully breathable inner that will eliminate condensation and provide extra warmth during the colder months making it a true all season bivvy. The outer material has been made from our new '5000' material guaranteed to keep you and your kit dry. The conventional dome design has been given a wider splay making it extremely sturdy in high winds. New spec poles have all been coated in smooth PVC shrink wrap making them extremely strong and easy to thread. Zipped and roll back doors can be set in a multitude of positions and both doors have see through high quality clear PVC windows and mosquito mesh to give maximum visibility and ventilation.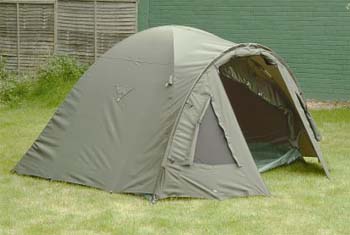 FEATURES: Twin skin construction, 5000mm Hydrostatic head waterproofed outer skin, Fully breathable inner, Tape sealed seams on outer skin, Sewn in waterproof ground sheet, Reinforced P.V.C coated 'easy thread' poles, Multi position zipped doors with P.V.C windows and mosquito mesh, Bar stitched reinforced pegging points, Bar stitched reinforced guy rope points, Supplied with peg set, Extended porch design with P.V.C central door and mosquito mesh sides,
SPECIFICATION: 255cm Deep, 250cm Wide, 135cm (Highest point of porch), 145cm (Highest point inside), 315cm (Back of inner to furthest point of external porch).
Optional Extras
None
Pricing
RRP of £124.99
Manufacturer's Website
http://www.jrcproducts.com
SPECIAL OFFERS – CLICK HERE FOR TODAY'S DEALS