Probably the best value for money bivvy available!
When it comes to providing quality bivvies and shelters at realistic prices, then it has to be JRC. We've owned many of their offerings over the years and they've served us well throughout. The new JRC Contact Bivvy is no different, offering quality construction and rugged performance at a fantastic price.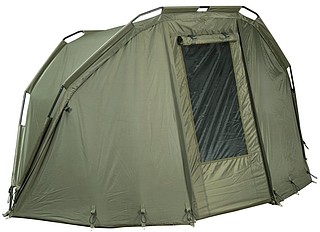 The JRC Contact Bivvy will perform week in week out, be it for the short stay overnight angler or the long stay session angler. All pressure points are stitched and taped for ultimate durability and ware, and for ease of use the JRC Contact Bivvy is designed to be easily transported, being compact and lightweight.
JRC Contact Bivvy Features;
Super strong yet lightweight aluminium poles
Full zip out front
Supplied with tension bars, groundsheet & heavy duty pegs
Incredible value for money
1 Man – £124.99
Dimensions:2.75 x 2.30 x 1.35m
Weight: 6.5kg
2 Man – £144.99
Dimensions; 3.10 x 2.70 x 1.30m
Weight: 7.5kg