The award winning Stealth Brolly is regarded by many as one of the best brolly systems available and now has the NEW JRC 5000 material.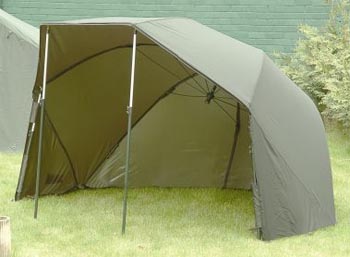 Super quick to erect and incredibly stable as all four back ribs touch the ground. The Stealth brolly also features a sewn in rain gutter to help guide water off the brolly as opposed to dripping off the sheltered area. All the features of the Stealth Brolly minus the zip front facility. Perfect for day or summer nights.

FEATURES
000mm Hydrostatic head waterproofed material, Fully tape sealed, Bar stitching at stress points, Full groundsheet supplied, Supplied with JRC peg set, Jrc's Heavy Duty Brolly Frame, Detachable zipped front panel with multi function door, Velcro rod retainer.

SPECIFICATIONS
265cm Wide, 130cm High.

PRICE
RRP £99.99
OPTIONAL EXTRAS
Overwrap for the Stealth Brolly at £89.99, or for the system (by removing the front zip panel) features a full opening front panel with extra low level mini door and removable mosquito net / clear window. The wrap will also increase warmth in the winter (pic below).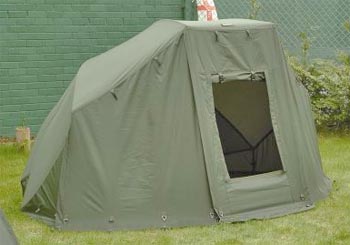 AVAILABILITY
From all JRC stockists, visit: http://www.jrcproducts.com

DEALS AT TIME OF PUBLISHING
Hooked Tackle & Bait are offering at just £69.99!