The pram hood system is regarded by many as 'The' bivvy system to have. Proving to be a hit with all as this style of bivvy offers unrivalled stability and rapid erection.

The 2005 model has the 5000 Hydrostatic head material, guaranteed to keep you dry, yet upon closer inspection all the little refinements that make this one special become clear. The poles are now 20mm Ultra light 6061 aerospace grade Aluminium, the same as used on JRC Bedchairs & Chairs making it both lighter and stronger. The inner has also been made with the 5000 material and incorporates 4 breathable mesh panels to help make condensation a thing of the past and provide superb ventilation. The dimensions at the rear have also been increased slightly to give a little extra room. Remember when you buy an STI Twin skin there are no hidden costs, you get the lot! Tension strap, Heavy Duty ground sheet, tension pole, quality moulded pegs and a twin skin construction. the 2-man has enough room to accommodate two bedchairs.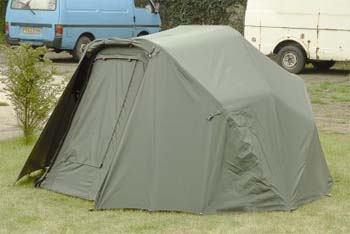 FEATURES
5000mm Hydrostatic head waterproofed outer skin, 5000mm Hydrostatic head waterproofed inner skin with mesh vent system, Tape sealed seams on outer skin, Supplied with detachable Heavy Duty ground sheet, Ultralight 6061 aerospace grade Aluminium poles, Multi position zip door with P.V.C window and mosquito mesh sides, Reinforced P.V.C coated 'easy thread' tension pole, Bar stitched reinforced pegging points, Bar stitched reinforced guy rope points, Supplied with peg set,

SPECIFICATION
280cm deep, 305cm wide, 145cm,high.

Availability
From all JRC tockists, visit: http://www.jrcproducts.com for more information

Pricing
RRP of £239.99

Deals at time of publishing
Hooked Tackle & Bait are offering at just £199.99.