If you like the speed of a brolly, but require the stability of a dome, then the Nash Brolly Dome is the perfect happy medium. The Nash design team, recognising the trend going away from umbrellas to more stable overnight shelters, came up with the Brolly-Dome based on a ridged pram hood system.
The Brolly Dome is light and quick to erect and offers more stability than an umbrella, increased coverage and a completely open front. The dome comes supplied with a zip on/off heavy-duty mosquito mesh infill and a groundsheet. A waterproof overwrap is also available as an optional extra.
Features

Pre-formed aluminium poles erect pram hood style

4oz nylon PU waterproof cover

Zip on/off heavy-duty mosquito mesh infill/door

Lightweight, removable groundsheet

Supplied with Nash heavy-duty T pegs and Cary Bag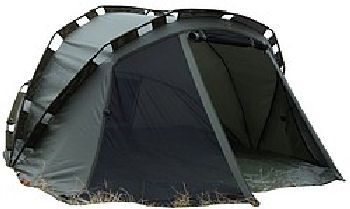 Verdict
We really like these cross breed type shelters, which allow the individual angler to find a perfect mix of features and designs to suit their own needs out on the bank. The Nash Brolly dome is a great example of this and will suit many short and long stay anglers who like a durable shelter that's easy to erect.
Available from: Fishtec
Price: £169.99
CLICK HERE FOR MORE INFORMATION