When it comes to carp fishing tackle, there aren't many companies that can claim to be ahead of Nash! Every item, from a hook to a top-of-the-range bivvy, is designed by real anglers and is a result of a well thought out process, rather than just jumping on every bandwagon.
The Nash Brolly Dome is a prime example of this.
The following text is from the Fishtec website, where you will find some of the cheapest bivvies online: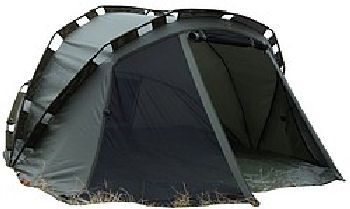 Speed of a Brolly, Stability of a Dome
Recognising the trend going away from umbrella to more stable, overnight shelters, the Brolly-Dome is based on a pram hood system; light and quick to erect. Offering more stability then an umbrella, increased coverage and completely open front. Supplied with a zip on/off heavy-duty mosquito mesh infill and a groundsheet. A waterproof overwrap is also available as an optional extra.
* Pre-formed aluminium poles erect pram hood style
* 4oz nylon PU waterproof cover
* Zip on/off heavy-duty mosquito mesh infill/door
* Lightweight, removable groundsheet
* Supplied with Nash heavy-duty T pegs and Cary Bag
Approximate Dimensions: Depth 210cm x Width 270cm
Approximate overall weight: 7.8kgs
Nash Brolly Dome Code: FC-BROLL-DOME RRP: RRP £169.99
Nash Brolly Dome Overwrap Code: FC-BROLL-DOME-O RRP: £69.99
At the time of writing, the Nash Brolly Dome was discounted at just £149.99 and the Overwrap was £49.99. CLICK HERE to check the latest discounted bivvy prices.
STOP PRESS: For a further discount, try the code FISHAWFEB5 when at the checkout stage. At the time of writing (18th May, 2010), it gave an extra 5% discount!
CLICK HERE to visit Fishtec.