The Nash Bushwrap is designed for those who want to add the ultimate camouflage effect to their Nash bivvy whilst at the lake. The Nash Bushwrap is made with special forces military camouflage and full mosquito protection. The Bushwrap is a two-part overwrap. An inner layer of heavy-duty mosquito mesh and a textured camouflage outer.
The Bushwrap features a door with heavy-duty twin zips and all-round pegging points tailored to perfectly fit your specific bivvy.
Available in the following formats;
Nash S Max 1 ; Tailored to perfectly fit your S7 Max 1 or S3 Max 1
Nash S Professional; Tailored to perfectly fit your S7 Professional or S3 Professional
Nash Titan; Tailored to perfectly fit your Titan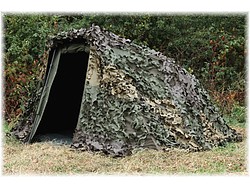 Verdict
Fantastic idea for those fishing on waters where a bivvy would usually stand out, either due to lack of bankside cover or harsh backdrops.
Available from: Fishtec
Price: Titan £149.99, S Max 1 £169.99, S Professional £149.99
CLICK HERE FOR MORE INFORMATION