In Brief
The Nash Double Top Extreme Bivvy offers exceptional space, comfort and countless quality features for the serious specimen angler. Available in one or two man formats it provides a level of quality well beyond its price tag and takes pram-hood style design to new levels.

Product Review
This new Nash Double Top Extreme Bivvy has been designed by a team of leading carp anglers and has been field tested in the harshest conditions imaginable. This deluxe bivvy has an array of impressive features including new porch/door canopy, this canopy properly maximises doorway coverage to eliminate rain ingress and provide shade.
The 1 man version of the Nash Double Top Extreme Bivvy has the capability of housing 2 bedchairs (fitted sideways), whilst the 2 man Nash Double Top Extreme Bivvy is exceptionally spacious and is ideal for long sessions shelter, and simply perfect for those who enjoy extra comfort.
* Waterproof outer
* Integral inner mesh to achieve rapid set up and break down set up in half the time of other twin-skinned bivvies
* Totally sealable, inner mesh capsule to optimise comfort and to eliminate intrusion from mosquitoes
* Rear vents to enhance air-flow and comfort
* New in-line spreader bar system to optimise rigidity
* Front waterproof, zippable panels to expose mosi windows and storm door
* Manufactured to last, year on year, for extreme conditions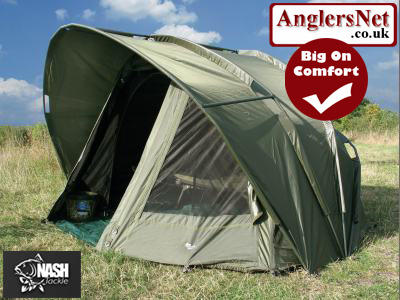 Brand Synopsis
Nash Tackle has been around since the dawn of modern day carp angling. The brand has always remained loyal to its ethos of innovation through design and its products have huge appeal to carp anglers all over the world. Although previously having aimed all its products at the specimen carp angler, the new Nash 'Peg One' brand for commercial carp angling is gaining a strong following.
Verdict
What we like about the Double Top is the space it offers. Really, it suits the long session angler the best and its plentiful array of features suggest this is the market it's aimed at. The 1 man is really a one and a half in reality, so there's lots of room for all your long stay gear – the two man is simply huge! If we had to pick a bivvy straight out of the box to go and do a week in France, the Double Top would probably be it. It's built not just for functionality, but also for comfort, so if you like to fish with a few of the finer things in life along for the session, this is the perfect partner for you!
Recommended Merchant
There's more to buying online than simply finding the cheapest link and hoping for the best. In a virtual world full of scammers and spammers it's imperative to purchase from sellers who not only offer the most competitive price, but who also back it up with excellent levels of customer service before, during and after the transaction.
For this item we recommend Fishtec, the UK's largest fishing tackle warehouse. With over £5m of stock, accredited safe online shopping, interest free credit options, quick delivery, hassle free returns, and exceptional levels of customer feedback on products & service, they lead the way in fishing tackle online shopping.

How to Purchase
Happy to purchase? Simply click on the 'Fishtec Deals' button below to go direct to the product ordering page, add the product to your shopping basket, select delivery and insurance options, then select the 'place order now' button. New Customers will then be directed through a quick and easy registration process (existing customers can simply log in) before entering payment details. Then just sit back and wait for your order to arrive!