The Nash S3 Bivvy is at the forefront of modern carp fishing design, aimed specifically at the specimen angler who demands the most from their equipment. Tailored for the hardcore carp angler, the lightweight S3 has three modular options and boasts a radical, aero-dynamically rounded profile for maximum stability, more headroom and increased porch protection.
The outer skin utilises Nash's groundbreaking intelligent-membrane technology – Aqua-Sense. Retaining a tension skin, Aqua-Sense intelligently relaxes or tightens depending on conditions and temperature. In tests, condensation drip was completely eliminated.
Features

Super-stable wind tunnel evaluated design guaranteed to withstand hurricane force winds.

Full protection with waterproof infill and extended porch

Heavy-duty mosquito mesh

Outer skin – Aqua-Sense™. Rear vents with zip-able panels to enhance airflow in summer

Highest quality pegging rings and fittings

Supplied with Clip-in heavy-duty groundsheet & Nash heavy-duty T pegs & Carry bag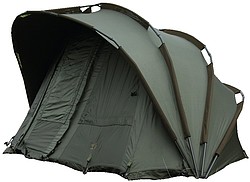 Available in two formats; S3 MAX 1 – Depth 220cm x Width 290cm, or S3 PROFESSIONAL – Depth 210cm x Width 270cm.

Verdict
We love some of the materials used to make today's top end bivvies, and Nash's Aqua-Sense is no exception. Super tough and durable it's built to last, and thus so is your bivvy!
Available from: Fishtec
Price: S3 MAX 1 £350.00, S3 PROFESSIONAL £379.99
CLICK HERE FOR MORE INFORMATION