If you're seriously into your fishing and spend a lot of time 'under canvas' in all manner of weather, then you may want to look at the Nash S7 bivvies. They're not cheap, but what price do you put on comfort when you're faced with the harshest conditions that mother nature can throw at you?
The Nash S7 bivvies offer an unrivalled level of performance and specification.
The Nash S7 Bivvy's waterproof skin is manufactured from Aqua-sense, which intelligently tensions, or relaxes depending on conditions and temperature. It senses the conditions, repelling moisture or utilising it to lubricate its membrane. Whereas existing materials slacken, creating condensation drip when cold and wet, this fabric does the opposite and retains an element of tension. In tests condensation was completely eliminated.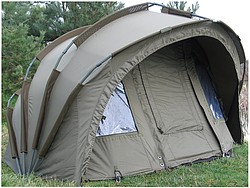 Nash S7 Bivvy features:
* Super stable wind tunnel evaluated design guaranteed to withstand hurricane force winds.
* Rear vents with zip-able panels to enhance airflow in summer.
* Twin-skin design, one action set-up inner capsule suspended from outer skin
* Capsule mesh infill front for comfort & airiness on summer nights
* Secondary waterproof infill panel for spring, summer & autumn rain protection, whilst retaining porch shelter
* Outer waterproof infill for complete winter protection from all elements
* Groundsheet-inner mesh capsule features a lightweight groundsheet. Also supplied is a full size heavy duty groundsheet
Supplied With
Nash heavy-duty T pegs.
Carry bag.
Technical Specification
Nash S7 Bivvy-Professional: Dimensions Height 135cm x Height 230cm x Width 260cm. FC-S7-PRO – 20.5kg
Nash S7 Bivvy-Max 1: Dimensions Height 140cm x Height 230cm x Width 285cm. FC-S7-MAX – 23.4kg
Manufacturer's Website
http://www.nashtackle.co.uk/
Price
Nash S7 Bivvy-Professional – £539.99
Nash S7 Bivvy-Max 1 – £589.99
Availability At Time Of Publication
Fishtec – 10% Discount To Members – CLICK HERE
Ebay – Various Discounted Nash S7 Bivvies For Sale – CLICK HERE