In Brief
The Nash Titan bivvy has been around in various guises for well over a decade, and has become, quite simply a legend in its own lifetime, offering durability, comfort and unique design features to aid the session angler. Now it's back in its best format ever, boasting even greater additional features with increased levels of versatility.

Product Review
The legend is back! The worlds most radical, popular and famous specialist carp shelter now returns in a second generation rebirth. The Titan's trademark slogan – tough, aggressive and ready to front Mother Nature to the end, still lives on with a new generation armoured material.
Rapid setup, maximum strength, rigid, pre-formed aluminium frame

Cover – armoured 15,000HS nylon

Zip on/off heavy-duty mesh infill

Zip on/off all-weather infill

Side windows and door panels roll back to reveal see-through storm windows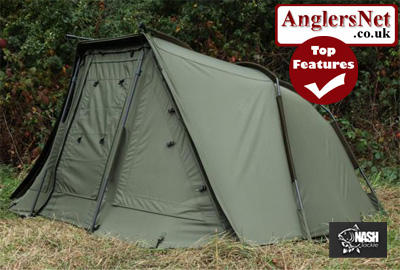 Supplied with:
Clip-in heavy-duty groundsheet
Nash heavy-duty T Pegs
Two 36" bivvy sticks and storm stick adapters
Carry bag.
Nash Titan Bivvy – approx. dimensions: Depth 210cm x Width 275cm
Overwrap also available
Brand Synopsis
Nash Tackle has been around since the dawn of modern day carp angling. The brand has always remained loyal to its ethos of innovation through design and its products have huge appeal to carp anglers all over the world. Although previously having aimed all its products at the specimen carp angler, the new Nash 'Peg One' brand for commercial carp angling is gaining a strong following.
Verdict
The Titan is truly a legend. What's set this bivvy apart since the beginning of its long and illustrious life is its uncompromising rigidity in any weather, twinned with an uncanny knack of being all things to all men. It can be the best friend of the long stay session angler offering prolonged shelter and comfort from the harshest of elements, yet with the subtle removal of the wrap (not included) groundsheet and front becomes a fine companion of the short stay or roving angler, and in either guise offers hard-nosed protection thanks to a rock solid rigid frame design.
The latest evolution Titan is in our view one of the finest bivvies on the market. The improved all weather infill panel and frame design will allow its continued dominance over the market in years to come.
One of the best bivvies of all time? Hell, yeah!
Recommended Merchant
There's more to buying online than simply finding the cheapest link and hoping for the best. In a virtual world full of scammers and spammers it's imperative to purchase from sellers who not only offer the most competitive price, but who also back it up with excellent levels of customer service before, during and after the transaction.
For this item we recommend Fishtec, the UK's largest fishing tackle warehouse. With over £5m of stock, accredited safe online shopping, interest free credit options, quick delivery, hassle free returns, and exceptional levels of customer feedback on products & service, they lead the way in fishing tackle online shopping.

How to Purchase
Happy to purchase? Simply click on the 'Fishtec Deals' button below to go direct to the product ordering page, add the product to your shopping basket, select delivery and insurance options, then select the 'place order now' button. New Customers will then be directed through a quick and easy registration process (existing customers can simply log in) before entering payment details. Then just sit back and wait for your order to arrive!