The Double Top is based on the popular, hoop-frame system, where the frame goes up in a similar way to a pram hood. Bivvies that use this system go up very efficiently and create a shelter that is very strong and capable of withstanding gale force winds.

FEATURES
The system is tried and tested – the better versions being those where the inner mesh skin is attached to the frame. The user connects the poles, swivels the frame upwards to erect it and then pegs out frame and inner skin. The waterproof canopy is then thrown over the top and pegged out. This sounds easy but try doing it on a windy day! This is where the Double Top wins every time! Nash have developed the first bivvy of its type – where the mesh inner skin is suspended off the waterproof canopy which is attached to the frame so that, when you connect the aluminium poles and pull up, the job's done. You don't even have to throw a waterproof canopy over the top.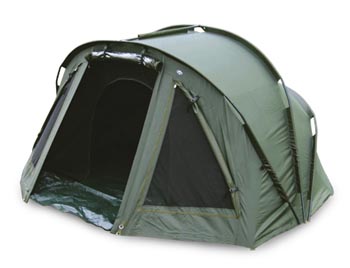 Simple but brilliantly effective. The inner mesh skin forms a separate capsule, the importance of this being that, with the door zipped up, there is no way that bugs or mosquitoes can get in. Neither are there any bits sticking up to trip over as you run out for a take. This has been achieved by installing a kind of Velcro'd, stick-down groundsheet/doormat that hides away and protects the doorway from being trodden on and damaged. The Double Top also incorporates rear panels that roll up to expose mesh windows, increasing air-flow on hot days. The difference this makes is significant and makes for a really cool bivvy.

SPECIFICATION
The Double Top is supplied with a sewn in ground sheet, a strong carry bag and T style pegs.
Dimensions (hdw) : 1 man – 150x270x270 weight 11.5kilos

PRICE
T1400 Double Top One Man £199 RRP

DEALS AT TIME OF PUBLISHING
Visit http://nashtackle.com for supplier deals

OPTIONAL EXTRAS
T1401 Double Top Heavy Duty Groundsheet 1 man £39.99
T1402 Double Top Extreme 3rd Skin 1 man £89.00

MANUFACTURER WEBSITE
http://nashtackle.com
Deals At Time Of Publication:
Ebay – Various new & used Nash bivvies for sale – CLICK HERE