I have to be honest here and say that when I first opened the Nash Double Top Extreme, my jaw dropped. I'd never used a pram-hood style bivvy before and wasn't sure where to start. Not only that, but I'd just had a nightmare drive to the venue and rain was looming. I wasn't in the best frame of mind for a 'new bivvy battle', to say the least! Luckily for me, I had a couple of tricks up my sleeve…..the instructions that came with it and Simon Ford, webmaster of www.carpfishinguk.co.uk, who happened to be fishing the next swim!
Simon explained that it was similar to his own bivvy and, honestly, setting it up was simplicity itself – we simply unfolded it, joined the corded poles together, fastened the retaining strap at the front, added the spreader bars and pegged it out. Job done! It would actually be hard, maybe even impossible, to get it wrong.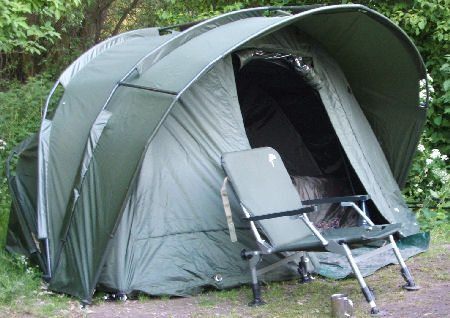 The one-man Double Top Extreme is advertised as being a one-and-a-half man sized bivvy and it certainly is spacious. This whole 'measuring the size of a bivvy in terms of men' thing can be very vague at the best of times. I've got one-man bivvies that are a lot smaller than this one. I'm not knocking them – they're great for tight swims – but it does go to show that it's worth investigating any bivvy before committing to buy one, as the differences can be vast.
Inside, I found plenty of room for my bedchair, table and kit. There were a couple of side pockets just inside the inner door, too.
The inside layer is a 'mosi-net' style mesh, with the outer being your usual waterproof tent material. A winter skin is also available at extra cost, which not only makes the bivvy even more secure in harsh weather conditions, but really does make it look hardcore! A groundsheet is fitted as standard, with a heavy duty additional one available as an optional extra.
Kevin Nash and his team have obviously listened to anglers and tried to incorporate as many of the good ideas they've heard as possible into this design. For example, there are mesh 'windows' front and rear – it's all well and good having a warm bivvy in the winter, but these tend to become unbearably hot in the warmer months. This design allows for a good flow of air through the bivvy, should you need it, without a mass influx of insects!
Also, the porch canopy is great. Not only does it keep out rain, but it also provides extra shelter from the sun, allowing you to sit in a chair and watch the water, rather than right back on your bedchair, where your vision may be impaired. That said, the Doublt Top Extreme design leads to a very large doorway, offering a better view of the lake than any other bivvy I've used to date. I also use the area between the outer and inner skins in the porch for storing water and other items, rather than cluttering up the inside with them.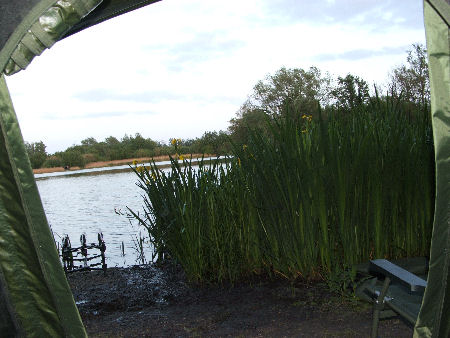 The View From Inside The Bivvy

A nice little touch was the velcro'd doormat, which stops the inner mesh door from being trodden on.
Predictably, not long after the Double Top Extreme went up, it rained. The shower that was forecast lasted all night. I must look up the definition of 'shower' some time and send it to the weather forecasters! Not a drop of water got inside the bivvy, however, and I was quite content in there, reading a book and sleeping. Unfortunately, I wasn't running out to the rods, as my alarms stayed quiet all night. I don't think Nash would claim that this bivvy will catch you more carp, but at least I was a comfortable blanker!
At the end of the session, my friendly-webmaster had already gone and it dawned on me that I'd have to put my new home away myself. GULP! It looked daunting, to be honest and, being new, a couple of poles fitted a bit tighter than they would after a few sessions. That said, I found the knack to getting them apart, which seemed to be to pull from the outer end of the end poles (it will make sense when you have one in front of you!) and the bivvy then almost folded itself. I got it back into its carrying bag with ease, proudly looking around in the hope that I'd been spotted by fellow anglers. I hadn't, so you'll have to take my word for it!
We'd all like a bivvy tailor-made to our own requirements, but to be honest, this one ticked pretty much all of the boxes for me. It's not the lightest bivvy in the world, but then it's not meant to be. It's built to endure lots of use and all manner of conditions and I can see that it would do that.
There are only two things that I'd like to see added;

A couple of velcro fasteners on the outside for propping my rods against whilst baiting up, etc.

A sign above the porch that says, "

IDIOTS. PLEASE BEND DOWN BEFORE ENTERING

". Being a totally new style of bivvy to me, my head did make contact with the 'hood' a few times! It was my own stupid fault, though.

I'd already heard some very good comments about this bivvy from other carp anglers and it also went down well with everyone who saw it for the first time when I was fishing. It's a great piece of kit and has already gone to the top of my 'favourite bivvies that I own' list! I'll get a winter skin for it one day and try it in colder conditions, but it would already be suitable for just about everything the UK can throw at it in its current 'basic' form.
For a list of stockists and the latest price information, please visit www.nashtackle.com
Deals At Time Of Publication:
Fishtec – 10% discount for members – CLICK HERE

Ebay – Various new & used Nash bivvies for sale – CLICK HERE
Nash products are also available from Hooked Tackle & Bait – CLICK HERE