The new Nash GroundHog takes the brolly-bivvy concept to new levels offering extreme versatility with extreme protection from the elements all year round, so it's no surprise anglers like Kevin Nash himself and other top anglers such as Sean Harrison and Lee Jackson rate the GroundHog as the best brolly/bivvy concept they have ever used.
The new Nash GroundHog is a vast upgrade from the original, as new innovative materials and manufacturing techniques have improved them greatly. New and improved fibre glass frame systems dramatically increase the strength and rigidity yet reduce the overall weight of the brolly.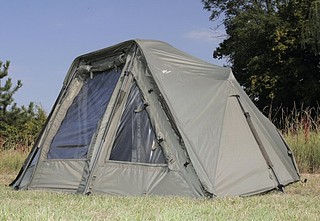 The Groundhog features the Nash twin front systems championed in the Titans, with separate, zippable, on and off front and mosquito mesh.
Other Nash GroundHog features include;
Super tough ultra strong frame
Will withstand any weather conditions
Durable, built to last for years
Quick and easy to erect
Ideal for both long sessions and quick overnighters
Width: 270cm – Depth: 210cm – Height: 140cm
The Nash GroundHog comes complete with:
2 x large front storm poles
2 x small side storm poles
1 x set of bivvy pegs
Products Available;

Nash GroundHog Bivvy – £269.99 – CLICK HERE TO BUY NOW
Nash GroundHog Winterskin – £119.99 – CLICK HERE TO BUY NOW