If you like to travel light, but want solid protection from the elements should things turn rough, then the Nash Hog Bivvy is the one for you.
The Nash Hog Bivvy is designed for specimen anglers who like to travel light and require the ability to set up, break down, or move swims at a moments notice, yet have a shelter that offers total protection throughout the year at the same time no matter how bad it gets!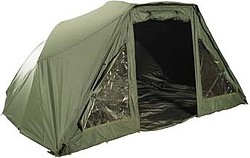 The New Nash Hog Bivvy will keep you fishing in total comfort, and it's brolly style design means it has asmall footprint so can get into even the most akward and tight of swims!
Width: 260cm – Depth: 190cm – Height: 130cm
Products Available;
Nash Hog Bivvy – £249.99 – CLICK HERE TO BUY NOW