The Pro Logic Spider Dome Bivvy takes pram hood bivvy design to new heights with a whole host of innovative features. Durable hardwearing materials offer unbeatable protection and extra height means superb vision to stay in touch with your surroundings.
Features

The Pro Logic Spider Dome Bivvy is manufactured using the most waterproof materials available

Porch system prevents rain entering bivvy

The Pro Logic Spider Dome Bivvy has reinforced pegging points for added security

Heavy duty poles for long lasting performance

Guaranteed all year protection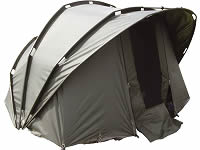 Verdict
Superb performance and excellent features, an all round value for money bivvy that is great for session anglers.
Available from: Fishtec
Price: 1 Man £169.99, 2 Man £219.99
CLICK HERE FOR MORE INFORMATION
Overwraps also available from £79.99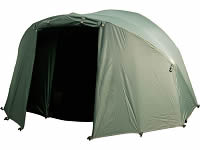 CLICK HERE FOR MORE INFORMATION