Gettting a good night's sleep is all part and parcel of session fishing, especially if you're doing a few nights or more at a venue. When you're tucked up in your bivvy, you'll appreciate a good bedchair. I remember, years ago, thinking that it would be enough just to throw a sleeping bag on the floor and sleep like that. Never again!

These days, a good bed and sleeping bag are considered by me as 'essential items'. In fact, I genuinely get a better sleep when I'm fishing than when I'm at home! I like to wake up ready to fish, not wandering around like a zombie.
The Comfort Zone Bed from the Matt Hayes Total Fishing Gear range not only offers good comfort, but is an absolute steal! Some beds cost hundreds of pounds, but TFG have managed to enter the market with an affordable, feature-packed 'fishing bed'.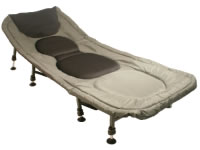 The Ultra Lightweight Comfort Zone Bed features maximum comfort pillow technology, breathable soft spot to regulate body temperature, with extra layers of sumptuous fillings. The TF Gear Comfort Zone Bed is purpose built for total slumber comfort with adjustable legs engineered for stability and a tough, strong frame.
Available in a 3-leg and 4-leg version, this is a bedchair that is causing quite a stir.
What's more, at the time of writing it was available with £30 off the recommended price…CLICK HERE for more details.