In a word…VALUE
In a market already saturated with dome shelters, it can sometimes be difficult to see the advantages of one new offering over another, but the TF Gear Force 8 bivvy stands out on a number of counts, not least on price and features, which can only be a good starting point!

Product Review
Effortlessly set up in less than 20 seconds. The TFG Force 8 Bivvy is fast and easy to erect thanks to a central hub system that quickly pulls a rigid flexi rib frame into place. It is then just a case of sliding the Flash-Touch power lock into position, and this incredible all season shelter is ready to go.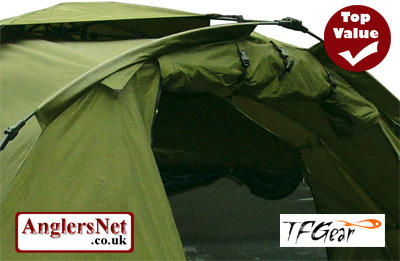 The bivvy is twinned skinned to maximise comfort creating a warm, thermally insulated and condensation free environment guaranteeing full protection against the worst weather imaginable. Designed with an integrated porch area that gives extra storage space for wet clothing, bait and any other session tackle you do not wish to have within your main living space, the Force 8 Bivvy also provides vital extra frontal coverage during extreme weather conditions.
The bivvy boasts an impressive specification, pushing others of the same price band firmly into the distance;
3,000mm hydrostatic head – the TFG Force 8 Bivvy is 100% waterproof guaranteed

Heavy duty 6oz denier fabric

Extra tough ribs to withstand the strongest winds

Porch for extra storage and protection

Erected in under 20 seconds

Built-in groundsheet for extra warmth and comfort
Brand Synopsis
Although a relative newcomer to the industry, the TF Gear brand, headed up by all-round angling supremo Matt Hayes, has quickly become established as a major player in the fishing tackle market. TF Gear offer innovative ranges to suit all budgets, with products backed up by continuous development and design. Definitely a brand here to stay.
Verdict
Dome bivvies suffered quite a bad press in the early days as you spent more time threading (and breaking!) fiddly poles than you did fishing, but the Force 8 shelter heralds a new era in dome style bivvy design with its easy to use central hub system, and the price just can't be ignored either. To borrow the words of Fat Boy Slim, 'you've come a long way baby!'
Recommended Merchant
There's more to buying online than simply finding the cheapest link and hoping for the best. In a virtual world full of scammers and spammers it's imperative to purchase from sellers who not only offer the most competitive price, but who also back it up with excellent levels of customer service before, during and after the transaction.
For this item we recommend Fishtec, the UK's largest fishing tackle warehouse. With over £5m of stock, accredited safe online shopping, interest free credit options, quick delivery, hassle free returns, and exceptional levels of customer feedback on products & service, they lead the way in fishing tackle online shopping.

How to Purchase
Happy to purchase? Simply click on the 'Fishtec Deals' button below to go direct to the product ordering page, add the product to your shopping basket, select delivery and insurance options, then select the 'place order now' button. New Customers will then be directed through a quick and easy registration process (existing customers can simply log in) before entering payment details. Then just sit back and wait for your order to arrive!