If you're looking for a good combination in relation to ease of use and value for money, you can't beat a brolley shelter, and this offering from TFG is the perfect example.
The TF Gear Power Brolly Shelter is perfect for those who prefer a traditional style umbrella system, yet don't want to compromise on performance. The shelter can be personalised to suit any weather conditions and fished as a lightweight day shelter or full on bivvy type shelter.
Features

Lightweight

Versatile

Quick to erect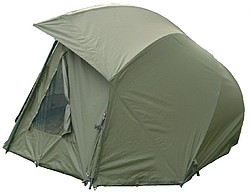 Verdict
If you're after a no nonsense shelter which can be used for day or night sessions, but you don't want to spend the earth or take an eternity setting one up, then the TF Gear Power Brolly Shelter is just the ticket.
Available From: Fishtec
Price: £99.99
CLICK HERE FOR MORE INFORMATION