Background
I have been using the Force 8 one man bivvy for just over a year now. I have used it in both summer and winter and have found it to be ideal for short stay sessions between 2-3 days.
Why did I choose it?
I do mainly weekend sessions and only get out fishing 3-4 times a year, so I wanted a lightweight, twin-skinned bivvy that would be able to handle all types of weather conditions, plus I did not want to pay more than a hundred pounds. The Force 8 for me matched all these requirements.
Specifications
3,000mm hydrostatic head – 100% waterproof guaranteed
Heavy duty 6oz denier fabric
Extra tough ribs to withstand the strongest winds
Porch for extra storage and protection
Erected in under 20 seconds
Built-in groundsheet for extra warmth and comfort
TFG Force 8 Bivvy
RRP One man: £99.99
RRP Two man: £129.99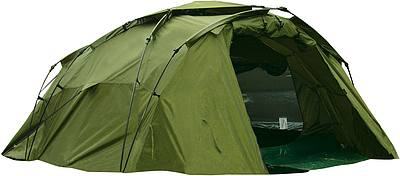 The Review
1. Erection and disassembly – one of the Force 8 main selling points is its ability go up in under 20secs; I think this is a little unrealistic, but I can put mine up and pegged out in a minute and a half, so that's not really a big issue as far as I'm concerned. It is very simple to put up and take down. Here's what I have noticed about the Force 8: You must follow the instructions about how to put it up and take it down to the letter or you will end up breaking one of its legs. A few people I know have used the Force 8 and have complained that a leg has broken or something has snapped, but that is because they have not followed the instructions. As it is a self-contained unit and everything is connected you have to follow the instructions! A common mistake is not zipping the mosi-sheet or the outer zip when packing away. When you come to put the bivvy up, if these zips are left undone after you have pegged the bivvy out, you will find that the front zip will not close and you will have to take the bivvy down and start again. I know because I have done this.
Disassembly is easy; take out peg's release mechanism, bivvy folds down and rolls up into its bag. My only complaint is that the bag supplied is not really big enough to make putting the bivvy away easily; I would be tempted to buy an oversized bag to make it easier.
2. Space – Once set up, you do get good space inside, plus a porch for storage. I have found the porch is very useful and it gives you a bit more room inside the bivvy as you can keep bait and other things out of the living area. When I come to replace this bivvy, I will look into buying a two man version just for the extra room.
3. All Seasons – I have used it in the very hot weather and in really strong winds and cold temperatures (ie. the middle of February, in the heart of Exmoor in Devon) and it has not left me down. I have read that the Force 8 in really strong winds often gets blown away; this has never happened to me. I have seen other bivvies of well-known makes becoming kites. I always make sure that it is pegged down with good quality pegs, not bent pieces of wire.
4. Quality of materials used – I'm not an expert on bivvies, but the materials used seem to be good and my bivvy has not leaked. I was out fishing a month ago and it absolutely tipped it down, but I stayed nice and dry. It is not one of the most stable bivvies, it tends to move in the wind which can be a bit nerve-wracking but once you get over that, it's okay.
Summary
My overall opinion of this bivvy is that if you do short sessions and you want a cheap bivvy, this is probably the bivvy to go for. I have found that it has met all of my needs; the one man version is probably a bit cramped for space if you are an angler that likes to take everything plus the kitchen sink with you. In hindsight, I would have bought the two man version.
Review By Anglers' Net Forum Member David Cawsey, a.k.a. smalltincup
Available from Fishtec – click here for details.