If you are looking for a bivvy that can adapt its format as your session unfolds, then the TFG Lite Speed Bivvy could be your perfect match. With its unique removable peak and porch system, you can have as much or as little protection as you need.
Built for dynamic erection, total weather security and to meet your demands no matter how high. The TFGear Lite Speed Bivvy is a bivvy that through technology and innovation, extends the boundaries of performance. Whenever you choose to fish you will be safe in the knowledge that you will have the very best protection possible, while having the flexibility to customise your shelter for any lake, whatever conditions or swim you fish in.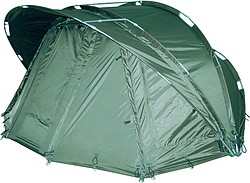 The TFGear Lite Speed Bivvy's unique removable peak provides total front door protection even in high winds and driving rain. When the weather is more moderate or when you desire total visibility of the lake, simply unzip the TFGear Lite Speed Bivvy's porch and have complete visual access to your surroundings.
VERDICT
Another cracking offering from TFG; versatility with robust performance? Yes Please! Be sure to check out the bundle deal below which saves you a shed load on RRP.

PRICE
Fishtec are currently doing the TF Gear Lite Speed Bivvy at just £199.99, giving a massive saving against RRP, with two optional extras also available;

OPTIONAL EXTRAS
TFG LITE SPEED OVERWRAP – £129.99
Simply attach to the Lite Speed Bivvy to create an all season twin skin bivvy. The skin eliminates condensation and increases warmth and comfort during cold winter sessions. The skin folds small for easy transportation.

TFG LITE SPEED TENSION BAR – £19.99
The tension bar sits between the hood ribs to increase strength and rigidity, ensuring that your shelter remains rock solid in any weather conditions.
SPECIAL OFFERS
TF Gear Lite Speed Bivvy Bundle Deal
At the time of writing, Fishtec are doing a fantastic bundle deal which gets you the Lite Speed bivvy, overwrap and tension bar all for just £299.99, saving you a whopping £49.98!
CLICK HERE FOR MORE INFORMATION
COMBO DEAL
Buy the bivvy, wrap and tension bar for just £299.99 – CLICK HERE