There are countless pram hood style bivvies available nowadays, but the Lok Down Bivvy from TFG is among the best when it comes to an impressive array of features linked to an incredible price.
When it comes to fishing in the worst weather, there is no room for compromise. The TFGear Lok Down Bivvy has been built to give you maximum protection, provided by its Storm Armour canopy. The TFGear Lok Down Bivvy is not just uncompromisingly warm, dry and stable, it's also so easy to erect and dismantle.
TFGear focused all their expertise into making a bivvy that can protect you from the cold and wet during the winter, yet due to its revolutionary breathable fabrics, keep you cool and comfortable during the height of summer or when on trips to warmer countries.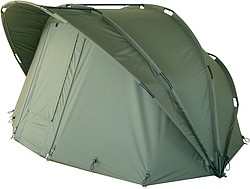 The TFGear Lok Down Bivvy doesn't just deliver an impressive performance it also features an unbelievable specification.
Features
Storm Armour canopy for extra protection
1 or 2 Man design
Extended wrap available (extra)
Verdict
The pram hood bivvy market is a pretty crowded place to be at the moment, and there are many which offer excellent features and many that are cheap, but the Lok Down Bivvy from TFG seems to find an equal balance between the two, so offers the perfect choice to those wanting sustained durability and value but without compromising on comfort.

Available from: Fishtec
Priced from: 1 Man £199.99, 2 Man £249.99 (additional Extended Wrap £149.99)
CLICK HERE FOR MORE INFORMATION