The new Quick Loc Bivvy is another quality offering from TF Gear aimed at the regular angler who wants a lightweight value for money pram hood design bivvy that's quick to erect and will stand up to the elements.
Designed using a new 2 pole frame system this is probably the fastest pram hood bivvy to erect.
Providing all the benefits demanded by dedicated session anglers, stability, durability and 100% weather protection this superb new bivvy will ensure you stay warm, dry and comfortable throughout the year.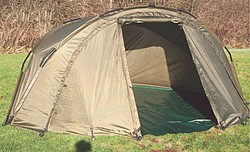 Multiple door options use as a full protection bivvy or convert to a day shelter
Features
– Lightweight super strong poles
– The quickest, easiest pram hood to erect
– 100% waterproof – full protection guaranteed
– Reinforced pegging points – will withstand the strongest winds
Verdict
We really like the new TFGear Quick Loc Bivvy; fast to erect, robust and at a price that's not going to break the bank. With a two bar design it's extremely lightweight too.
Available from: Fishtec
Price: 1 Man £99.99, 2 Man £129.99
CLICK HERE FOR MORE INFORMATION
!!STOP PRESS!!
CLICK HERE TO CHECK FOR THE LATEST FISHTEC DISCOUNT CODE – SAVE EVEN MORE MONEY!