Cooking whilst out on the bank should be an enjoyable process and not a chore, and this fantastic Trakker Armo LCG Stove is just the job for making light work of your cooking on the bank.
The stove has a high thermal efficiency some 20% higher than the same grade ordinary stove, which means that it cooks faster and uses less juice!
Features

Strong stainless steel and copper construction

Compact fold away support frame

High energy ceramic piezo electric ignition system

High heat efficiency

Universal fitting suitable for all kinds of gas bottles.

Size: 165 x 186 x 78mm

Weight: 260g

Rating speed: 12,000BTU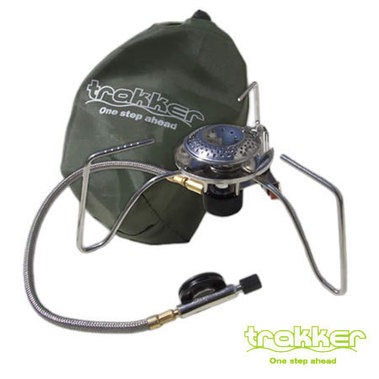 Verdict
Fantastic little stove this. It's robust, durable and has all the features you need to make cooking on the bank a piece of cake – and when you're finished it folds up to virtually nothing. Great design, great product.
Available from: Sportfish
Price £19.99
CLICK HERE FOR MORE INFORMATION