If you're one of those who likes to enjoy the finer things in life whilst out session fishing, and by that we mean food glorious food, then have a look at this fantastic cook set from Trakker.
The Gourmet Pan Set includes two saucepans with lids and frying pan, all with ergonomic fold away handles. All items are made from lightweight aluminium, with non-stick anodised coatings – just the job for getting the bacon cooked!
Features

Two lidded pans and frying pan

Lightweight aluminium

Fire-resistant, easy to clean, non-stick anodised coating

Fold-away handles

Heat-proof lid handles

Packed in mesh bag

Frying pan size: 17.5cm diam. 750ml capacity

Large pan size: 170 x 95mm 1.7 litre capacity

Small pan size: 150 x 80mm 1 litre capacity

Weight: 746g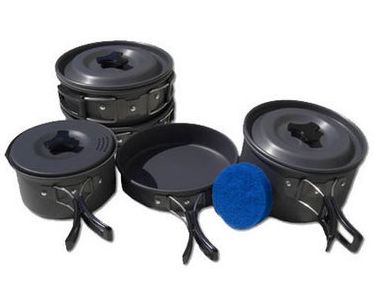 Verdict
We really like the fold away handles on this cook set. There's nothing worse than having a load of cumbersome cooking equipment weighing you down, but this neat little set is just the job.
Available from: Sportfish
Price £29.99
CLICK HERE FOR MORE INFORMATION