Detail
A simple no nonsense brolly, ideal for day sessions and quick overnighters. Lightweight and quick to set up and pack down, there really is no shelter to rival the humble brolly in terms of function and value for money.
The Trakker Oval 60in brolly can be carried in even the smallest of quivers and can be set up and pegged down in under a minute – the true mobile angler's best friend.
Features

Supplied with 2x 26" storm poles, 'T' pegs and carrybag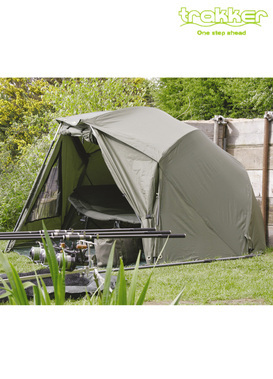 Verdict
The Trakker brolly has been a firm favourite amongst many short stay anglers for many years and continues to offer practical protection at a reasonable price. Where brollies will always fall down, though, is the space confinements underneath due to the internal ribs. As such, we would also recommend you take a look at, say, the Trakker A Lite shelter or some of the Chub shelters, which offer improved levels of space yet with comparable set up times and costs.
Available From: Sportfish – CLICK HERE
Price at time of publishing: £99.99