I've made many lifelong friends through fishing; people whom I've come into contact with as a result of my carp fishing endeavours who have since become a big part of my life, and the same could be said for some of my carp fishing tackle; there are a few items which have also become such a big part of my carp fishing life, I simply can't imagine being without them!
Currently topping this list of irreplaceable carp tackle items is my Trakker Pioneer Ultralite Aquatexx Bivvy. It's everything I've ever wanted in a carp fishing bivvy and then some! I've had it for over three years now and I'm just as smitten now as I was the first day I put it up. You see, for me it's the epicentre of truly innovative design that actually moves forward conventional thinking – as opposed to just re-dressing a past design in new clothing – as so many manufacturers unfortunately seem to do.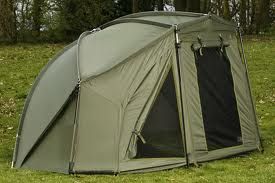 My own fishing comprises of very short hit and run style overnight sessions during the working week. I never leave the house 'til after I've put the kids to bed at around 8pm, and I'm back in the morning in time to get them fed and off to school. It can be a very hard regime, especially through the winter months, when you're arriving blind at a water in complete darkness and heading off again in the morning before it's properly come light. As a result, my actual fishing time is only eight or ten hours per session, but it's what I've got to do if I want to fish – with two businesses, a wife and a young family, the luxuries of full-on weekend sessions are a thing of the past!
As such, my whole approach to fishing has changed immensely over the last five years. Gone are all of the bankside indulgences associated with comfortable session fishing; my tackle is now purely functional in the truest sense of the word. I need to be able to get my gear in and out of the car with the minimum amount of fuss each session, whilst also being able to set it all up and break it down on the bank in super quick time, in order that I can really maximise my available fishing time. In addition, everything needs to be totally lightweight; every piece of tackle I carry has to answer for itself and must serve a required purpose or else it's simply excess baggage.
It all sounds a bit clinical and anal I know, after all, fishing is supposed to be fun, but that's just the point – carp fishing is a total obsession for me and since getting married, having kids and starting businesses, I've had to make wholesale changes to my fishing in order that I can still get out on a regular basis whilst keeping everything else in life ticking along nicely.
No single product epitomises my approach more than the Trakker Pioneer Ultralite Aquatexx. It's the short stay angler's best friend. Many bivvies claim to have quick set up times, but they've not seen the Ultralite. I once got my friend to time me putting it up for a feature I did; from having it on the ground zipped up in its bag, to having it fully erected and pegged down was under 40 seconds. They don't come much quicker than that!
Once up, it's a dream to use. In design terms its similar to a brolly system, but instead of having the ribs on the inside taking up valuable headroom, it utilises an external aero-grade aluminium frame that gives supreme rigidity and excellent strength. Due to the way the hinged spreader block comes together, saggy infill panels are a thing of the past – every time it goes up its as taught as an umbrella on a red-hot day no matter what the conditions. And the heavy duty Aquatexx material ensures you stay fully protected underneath. Mine is one of the newer versions with the restructured front panels, which to be honest, is one of its best features. This extra bit of protection from sides and front means I don't have to use the front panel at all. Likewise, I never use the wrap, or groundsheet come to think of it! I did get the bivvy with all the bits and pieces, but quickly realised I was never going to use them. In three years of fishing summer and winter overnighters as often as twice a week, I've only had the front panel on it once, which proves testament to the level of protection it offers.
What I also love about it is its minimal footprint; with a depth of just 2.1m and a length of 2.6m, you can easily get it up on even the smallest of swims, yet you never feel cramped, even when the rain comes down with no front on. What's more, the height at the front can be set at two levels; the lowest coping with all that Mother Nature can throw at you. I fish mine without any side support poles or front storm poles – It just doesn't need them for the type of fishing I do. On one grim overnighter this January, I awoke in the morning to find that we'd had over three inches of snow during the night which had then turned to sleet. The whole of the bivvy was totally covered in inches of slush which weighed an absolute ton. The weight had lowered the bivvy right down, but that was it – it had not pulled any pegs out at the back or hampered its functionality in any way, despite the fact I had no front on it or any stormpoles! I remained totally snug inside the sack all night totally unawares – it really is that good in terms of the level of protection offered. If I was fishing multiple nights at a time during wet or wintry conditions, then of course I might well utilise the wrap to keep condensation down and retain heat, and likewise the front panel to keep out the wind, but my philosophy is that no matter what's going on, the longest it's going to be before I'm home is a few hours, and thus I use it in its most lightweight stripped out format no matter what the conditions, and it has proved itself time and time again – there really aren't enough superlatives to go around when talking about the Trakker Pioneer Ultralite; a truly innovative design that's still light years ahead of the competition.
For those in the market for a quality lightweight bivvy system that's going to give you years of trouble free use, all I can say is buy one! You won't regret it. It's not cheap, but in this case, you really do get what you pay for. For those on a tight budget, it's worth noting that they did do a cheaper 'Specimen' version for a while, which used a nylon outer rather than the Aquatexx material. To be honest, as the Aquatexx material is so bombproof and streets ahead of nylon, my advice to those on a budget would be to get a decent second hand version of the proper Aquatexx Ultralite off eBay, rather than buying a new Specimen version.
Shop around for the best deals, I've seen the full system with a wrap for under £500.00 and the bivvy on its own for as little as £370.00, which, to be honest, is an absolute bargain.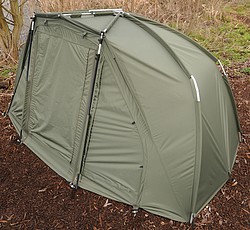 As a last word for anybody looking for something along these lines, before hitting the 'buy now' button on an Ultralite, I'd also take a very close look at the new Trakker Armo Tempest Aquatexx. It's a new Trakker model for 2011 which whilst not replacing the Ultralite, takes some of its best features and adds them to a bivvy with a slightly bigger footprint, giving an extra 30cm depth. It features a flat back design so your bedchair sits flush along the back wall (reducing the overall footprint) and has a lock bar erection system very similar to that of the Ultralite. All in all a very impressive piece of kit which I may well take a good look at if ever the time comes that I need to replace my Ultralite. You can view them by CLICKING HERE.

Julian Grattidge
www.northwestcarp.co.uk
August 2011