Trakker have now made the ground breaking and hugely successful Pioneer bivvy more affordable to most anglers by the introduction of the new Specimen Pioneer.
It is identical to its more expensive brother in every way except for the material, which is made from strong waterproof nylon, tested by us over the last 12 months in the most adverse weather conditions.

FEATURES
Removable zip-off infill panel with mozzi door
2 x 48" aluminium storm poles
2 x 36" aluminium storm poles
Heavy duty groundsheet
16 x T pegs
4 x Storm caps
Carry bag.
2 x aluminium erecting handles
SPECIFICATION
Width: 2.7m
Depth: 2.4m
PRICE
TSPEC/PIN £249.99
DEALS AT TIME OF PUBLISHING
Visit http://www.TrakkerProducts.co.uk for supplier details
OPTIONAL EXTRAS
Pioneer Standard Wrap (TRPIN/W1) £119.99 RRP
Designed to cover just the top of the Pioneer to reduce condensation.
Attaches to each pole with Velcro fitting in order that the Pioneer can be erected/dismantled with wrap in place.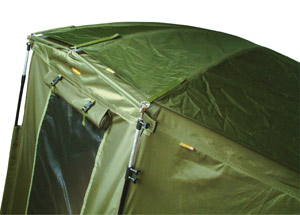 MANUFACTURER WEBSITE
http://www.TrakkerProducts.co.uk