Without a doubt the Trakker Pioneer Ultralite Bivvy is one of the best bivvies ever made! It's incredibly versatile, lightweight, and very robust. It gives you the shelter and protection you want from a bivvy, but with the ease of use of a brolly – perfection in a bag!
The Ultralite is perfect if you prefer the brolly type of set up but don't want to compromise on space or strength. It gets its name from its incredibly lightweight aero-grade aluminium frame which when combined with the Aquatexx® fabric skin makes an unflinching bivvy that's easy to transport and quick to erect. It's compact footprint makes tight swims more accessible.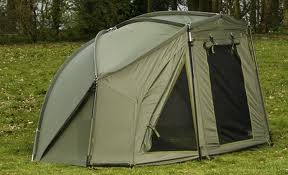 The restructured front section is proving popular, giving more coverage from rain when the front sections are re moved and with mozzy infill panels you'll keep your bivvy cool through the warmer months.
The Trakker Pioneer Ultralite Bivvy also features;
Heavy-duty groundsheet

Heavy-duty 'T' pegs

Mozzy infill panel

48" quicksticks

24" quicksticks
Trakker Pioneer Ultralite Bivvy – £449.99